BAGHDAD - Most of the dozens of hostages seized at a Higher Education Ministry building on Tuesday have been freed, the government said on Wednesday.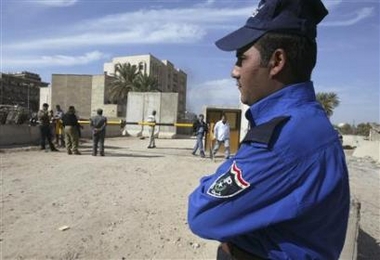 A policeman stands guard outside the compound of the Higher Education Ministry in Baghdad, November 14, 2006. [Reuters]


An official at the Prime Minister's media office said around 40 hostages had been in the hands of the kidnappers by Tuesday evening and "most of them have been released." He did not give exact numbers or say how they were freed.

There were different reports on exactly how many men were seized from the Higher Education Ministry building in central Baghdad in a brazen daylight raid by gunmen in police uniforms. Around 20 were released within hours on Tuesday.

A spokesman for the Higher Education Ministry reiterated on Wednesday his minister's estimate on Tuesday that at least 100 had been taken, including male employees and visitors.

"They beat us and insulted us and after that they freed us," the spokesman quoted the assistant manager of the building, Yaha Alwan, as saying after he was released on Tuesday afternoon.

Amid new suspicions of police complicity in the latest and biggest mass kidnapping, the interior minister hauled in police chiefs to explain how dozens of gunmen swept into the Higher Education Ministry annex, rounded up those inside, and drove them off in broad daylight toward a Shi'ite militia stronghold.

Al Furat, a TV station controlled by a major Shi'ite political group, said early on Wednesday that 25 hostages were still missing.

Some of those released earlier in the day said they were driven to Sadr City, a Shi'ite militia stronghold in eastern Baghdad, Higher Education Minister Abd Dhiab said.

| | | |
| --- | --- | --- |
| 1 | 2 | |