WASHINGTON - US Democrats voted Tuesday to keep the leaders who guided their takeover of the Senate last week but were sharply divided over whether to give Speaker-to-be Nancy Pelosi the majority leader she wants in the House.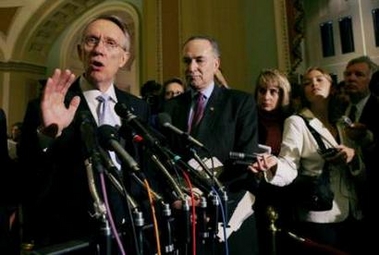 Incoming US Senate Majority leader Harry Reid (D-NV) speaks to the press on Capitol Hill following his election to the post November 14, 2006. Reid, a moderate Nevada Democrat, was elected by colleagues on Tuesday as US Senate majority leader for the 110th Congress that will convene in January. Senator Charles Schumer (2nd L)(D-NY) becomes the Vice Chair of the Conference. [Reuters]


Former Republican Majority Leader Trent Lott, meanwhile, opened a bid to return to the Senate's Republican leadership after being ousted in 2002 for remarks interpreted as endorsing segregationist policies of the 1940s.

"Yes, I am," the Mississippian said Tuesday when asked if he was challenging Tennessee Sen. Lamar Alexander to become minority whip in the newly elected Democratic-majority Congress next year.

Senate Democrats voted Tuesday to make Sen. Harry Reid of Nevada majority leader and Dick Durbin of Illinois No. 2 in the party hierarchy. Both have held the same positions but with "minority" instead of majority in their titles since the 2004 election.

In the House, a bitter battle was under way after Pelosi said she would prefer Rep. John Murtha of Pennsylvania to be majority leader over her current lieutenant, Rep. Steny Hoyer of Maryland. Critics accused Pelosi of backpedaling on a pledge to scrub the House of corruption.

Both Murtha and Hoyer claim to have commitments from a majority of Democrats, but the balloting Thursday will be secret and commitments often change.

Murtha, a decorated Vietnam veteran who favors an immediate drawdown of US troops in Iraq, has fought charges for years of using his senior status on the defense appropriations subcommittee to award favors to campaign contributions. He voted against a Democratic package of ethics reforms earlier this year and was touched by but never charged in the Abscam bribery scandal a quarter-century ago.

Citizens for Responsibility and Ethics in Washington, a Democratic-leaning watchdog group, accused Pelosi of compromising her ethical standards by endorsing Murtha.

| | | |
| --- | --- | --- |
| 1 | 2 | |