HANOI - Vietnam has rejected a recent report of an international human rights group about the country's gathering and bad treatment to homeless kids, Vietnam News Agency (VNA) reported Tuesday.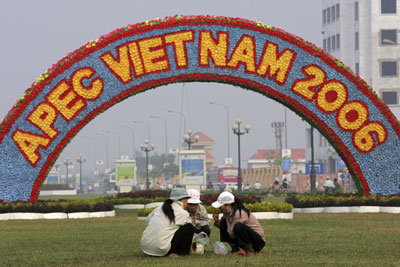 Workers take a break outside the venue for the Asia-Pacific Economic Cooperation (APEC) meeting in Hanoi November 14, 2006. Hanoi hosts the annual Asia-Pacific Economic Cooperation (APEC) meeting from November 12 to 19 as the World Trade Organisation's newest member and Asia's only candidate to become a non-permanent member of the United Nations Security Council in the 2008-09 term. [Reuters]


The report of the US-based Human Right Watch which says street children in Hanoi have been brought to social sponsorship centers and brutally treated, when the city prepares for this week 's Asia-Pacific Economic Cooperation Summit, is "a complete fabrication", the VNA quoted Spokesman of the Vietnamese Foreign Ministry Le Dung as saying.
"The state and people of Vietnam have always attached importance to the protection, care and education of children, including underprivileged and street children," Dung said, describing the work as "the responsibility of the state, the society and every family, and the tradition and morale of Vietnam. "
In order to help disadvantaged and street children, the Vietnamese government has introduced various specific policies on child healthcare and education, and put forth measures to protect children from the threat of child labor abuse, degradation of human dignity and sexual assault, he said.
Agencies and localities, including Hanoi, have carried out a number of projects to assist street children in reuniting with their families and provide healthcare, consultancy and vocational training to those who cannot do it, Dung said, adding that all of the measures aim to create better life for them.
Vietnam was one of the first countries having signed and ratified the Convention on the Rights of the Child. The country has actively implemented its commitments on the issue, and cooperated with the international community on improving child welfare amid its low average per-capita income, said the spokesman.
"Vietnam's efforts in child care and protection have been recognized and highly appreciated by the United Nations, including the UN Children's Fund," Dung stressed.