BAGHDAD, Iraq - A suicide bomber blew himself up outside a police recruiting center in Baghdad early Sunday, killing at least 33 people and wounding 56, police said.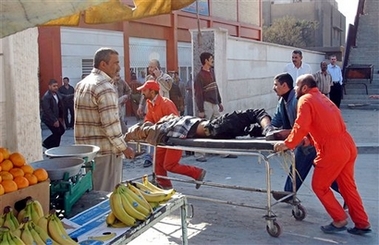 One of the casualties is rushed for medical help in Baghdad, Iraq, Sunday, Nov. 12, 2006. A suicide bomber blew himself up outside a police recruiting center in Baghdad early Sunday, killing at least 33 people and wounding about 50, police said. [AP]


Crowds of recruits were gathering outside the center in western Baghdad's Nissur Square when the bomber detonated explosives strapped to his body, police Lt. Maitham Abdul-Razaq said.
He said the death toll was expected to rise because many of the injuries were extremely serious.
The attack was one of several on Sunday in the capital, where sectarian violence kills scores each week. Just south of the city, police were searching for gunmen who killed 10 Shiite travelers and kidnapped about 50 others Saturday night along a notoriously dangerous stretch of highway.
Earlier Sunday, a pair of roadside bombings targeting police patrols in Baghdad killed at least six civilians and wounded six others, said police Cap. Mohammed Abdul-Ghani.
A car bomb outside a market in Baghdad's primarily Shiite downtown Karradah killed at least one person and wounded five others, while a similar bomb killed two people and injured 13 in the mainly Sunni neighborhood of Radhwaniyah, Police 1st. Lt. Thaer Mahoud said.
Unknown gunmen also shot and killed police Brig. Abdul-Mutalib Hassan as he was leaving his Karradah home for work. Hassan had been head of a police unit in charge of registering vehicles that is widely seen as a source of corruption.
Five people were killed in drive by shootings in different parts of Baqouba, 35 miles northeast of Baghdad. The victims included a teacher, taxi driver, laborer, truck driver and phone company worker, provincial police said.
Patrols were looking for the Sunni gunmen who ambushed a convoy of minibuses at a fake checkpoint near the volatile town of Latifiyah, about 20 miles south of Baghdad in the so-called Triangle of Death.
The gunmen murdered 10 Shiite passengers before taking their captives to an unknown location, said the spokesman, who asked that his name not be used because he wasn't authorized to speak to media.
A leading Shiite politician warned that local tribes had armed themselves and were headed to the area to join in the search, a move likely to set off even greater bloodshed.
In an address to parliament, Abdul-Karim al-Anzi said the kidnappers had worn Iraqi army uniforms. He complained that security forces were doing little to capture the hostages.
"We demand that the government take quick action to send troops there in order to know the fate of those kidnapped," al-Anzi said.
Along with those killed, five bodies ¡ª all blindfolded and bound at the wrists and ankles ¡ª had also been recovered in various parts of eastern Baghdad early Sunday, police said. All had been mutilated by torture, marking them as victims of death squads that regularly kidnap rivals from Iraq's Muslim Sunni and Shiite sects.
Three more bodies were pulled from the Tigris River in Suwayrah, 25 miles south of Baghdad, morgue official Maamoun al-Ajili said.
U.S. forces, meanwhile, said they detained 10 people suspected of having links to al-Qaida in a raid in Baghdad early Saturday.
The military said no one was killed or wounded in the raid, and that those detained were "associated with terrorists who are involved in the housing, movement and enabling of foreign fighters, to include the organization of suicide operations within Baghdad."