WASHINGTON - Sen. John McCain, considered the front-runner for the 2008 Republican presidential nomination, intends to launch an exploratory committee next week, GOP officials said Friday.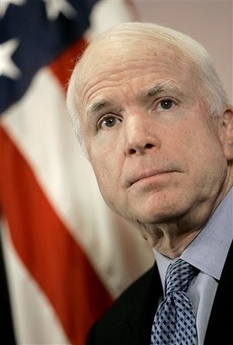 US Sen. John McCain, R-Ariz., remarks on the resignation of US Secretary of Defense Donald Rumsfeld Wednesday, Nov. 8, 2006, during a news conference at his his office in Phoenix. [AP]


The officials spoke on the condition of anonymity to avoid pre-empting a public statement from the four-term Arizona senator.

McCain, the GOP maverick who unsuccessfully sought his party's nomination in 2000, already has opened a bank account for the committee, one official said.

"The senator has made no decision about running for president," said Eileen McMenamin, a McCain spokeswoman.

Aides to McCain say the senator will discuss a presidential bid with his family over the Christmas holiday.

McCain is a former Navy pilot who was a prisoner of war in Vietnam. He was elected to the Senate in 1986, and served in the House for four years before that.

If McCain were to run, he would turn 72 on Aug. 29, 2008, at the height of the campaign. Only President Reagan was older - 73 at the start of his second term. McCain's health could be another issue. The senator has had several cancerous lesions removed from his skin.

Since losing to Bush in 2000, McCain has alternately challenged and embraced the president, building an independent reputation who isn't afraid to speak his mind. At the same time, he's sought to mend fences with conservatives he alienated in his first presidential run.

After Republicans lost control of both the House and Senate on Tuesday, McCain called for a return to the conservative principles he said make up the foundations of the Republican Party.

"We came to Washington to change government and government changed us," lamented McCain. "We departed rather tragically from our conservative principles."

He urged the party to return to a time when it was known for careful stewardship of tax dollars, less government, less regulation, lower taxes, a strong defense, as well as community and family values.

"I'm confident we will do that," he said.

| | | |
| --- | --- | --- |
| 1 | 2 | |