LONDON - British authorities are tracking almost 30 terrorist plots involving 1,600 people, the country's domestic spy chief said in remarks released Friday, warning that young British Muslims are at risk of being radicalized by extremists.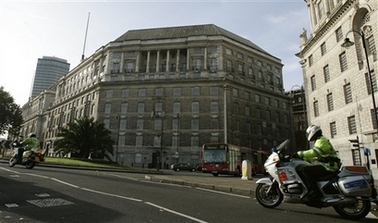 A general view of the headquarters of Britain's internal security service MI5 , in London Friday Nov. 10, 2006. The head of Britain's MI5 spy agency, Dame Eliza Manningham-Buller has said British authorities are tracking almost 30 terrorist plots involving 1,600 individuals, many of the suspects were homegrown British terrorists plotting suicide attacks and other mass-casualty bombings. Prime Minister Tony Blair backed the assessment of his spy chief and warned the terrorist threat 'will last a generation.'. [AP]


It was the first public estimate of the threat by the head of MI5, Dame Eliza Manningham-Buller, who said her agency and police are monitoring 200 cells actively engaged in plotting or aiding attacks in Britain and abroad.

More than a year after the suicide attacks on London's transit system, Manningham-Buller predicted the fight against terrorism would last a generation.

"It is a sustained campaign, not a series of isolated incidents," she said in a speech to a small audience of academics Thursday, according to a transcript released by the spy agency on Friday. "Radicalizing elements within communities are trying to exploit grievances for terrorist purposes."

"It is the youth who are being actively targeted, groomed, radicalized and set on a path that frighteningly quickly could end in their involvement in mass murder of their fellow UK citizens, or their early death in a suicide attack or on a foreign battlefield," she said.

Manningham-Buller said MI5 had foiled five major plots since the July 2005 transit bomb attacks in London, which killed 52 commuters and the four suicide bombers.

Officials are also "aware of numerous plots to kill people and to damage our economy," she said. "What do I mean by numerous? Five? Ten? No, nearer 30 that we currently know of."

While current plots use homemade bombs, Manningham-Buller warned future threats would come from "chemicals, bacteriological agents, radioactive materials and even nuclear technology."

Prime Minister Tony Blair said he agreed with the spy chief's assessment that the threat from international terrorism "is serious, is growing, and will, I believe, be with us for a generation."

| | | |
| --- | --- | --- |
| 1 | 2 | |