WASHINGTON - The anti-GOP wave that upended Congress rewarded Democrats with new opportunities to help set the national agenda and burdened them with the task of delivering on voters expectations.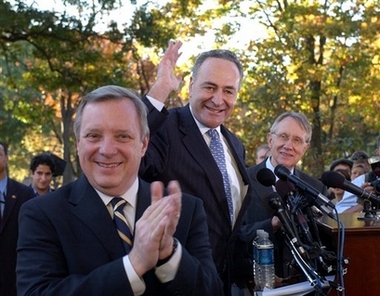 Sen. Charles Schumer, D-N.Y., center, flanked by Sen. Richard Durbin, D-Ill., left, and Senate Minority Leader Harry Reid of Nev., gestures during a rally on Capitol Hill in Washington, Thursday, Nov. 9, 2006, celebrating the Democratic Senate majority. [AP]


"Time for a change," Sen. Harry Reid of Nevada, who likely will become the new Senate majority leader next year, said Thursday at a victory rally outside of the Capitol. "This country has spoken loudly and clearly."

Between their promise to increase the minimum wage and their vow to seek a new direction in Iraq lies the difference over what is achievable and what might fall beyond their reach.

"Simply having the title of majority is not enough," said Sen. Richard Durbin of Illinois, the second-ranking Democratic leader in the Senate. "It's a long litany of challenges before us."

Reid and Rep. Nancy Pelosi, the would-be speaker of the House, savored their victories on Wednesday but struck conciliatory tones, promising to work in a bipartisan way with congressional Republicans and the president.

"This is not a juggernaut just slicing through town," Reid said.

Democrats won the slimmest 51-49 majority in the Senate Wednesday evening with the victory of Democrat Jim Webb over Republican Sen. George Allen in a hard-fought Senate race in Virginia. With some races too close to call, Democrats held 230 seats in the House, 10 more than a bare majority. They appeared to be in line to win two more.

For Democrats, winning control of both chambers of Congress raises the stakes.

Besides hiking the minimum wage, they want to act quickly on legislation to enact recommendations of the 9/11 Commission, to reduce dependence on foreign oil, to expand stem cell research and to reduce the price of drugs offered through Medicare. All those pose potential legislative challenges, but none more than the Democrats' pledge to seek a new direction in the war in Iraq.

| | | |
| --- | --- | --- |
| 1 | 2 | |