LONDON - A probe into damaging cash-for-honours charges closed in on British Prime Minister Tony Blair, as it emerged that police had contacted every member of his cabinet except the Labour leader over the affair.
Chancellor Gordon Brown was the first reported to have received a letter seeking explanation of his role in the simmering scandal, which allegedly saw huge payments in return for formal titles, or peerages.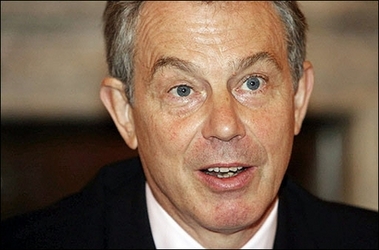 British Prime Minister Tony Blair is pictured as he prepares to meet school pupils representing the 'Stop Climate Chaos Coalition' in 10 Downing Street in London. A probe into damaging cash-for-honours charges closed in on Blair, as it emerged that police had contacted every member of his cabinet except the Labour leader over the affair. [AFP]

But the mystery deepened later in the day after party sources said that every member of Blair's government had also heard from detectives asking what they knew about crucial donations to the funds of the ruling Labour Party.

Health Secretary Patricia Hewitt confirmed said late Wednesday that she will be interviewed. It is understood she will face questioning over donations made to her constituency party by curry tycoon Sir Gulam Noon.

Noon was one of the wealthy supporters who loaned Labour a total of 14 million pounds (21 million euros, US$27 million) ahead of last year's general election.

His nomination was blocked by the House of Lords Appointments Commission, sparking the current investigation that seats in the unelected upper chamber of parliament were offered in return for financial assistance to political parties.

"I have been asked for a meeting as a witness. I will, of course, fully co-operate with the police inquiry," Hewitt said.

A Labour source said of the police contacts with serving or former cabinet ministers: "They have simply asked those involved in the last election to declare formally in writing what they knew about the loans.

Another official added: "What the police are seeking to establish is whether Downing Street (Blair's office) deliberately concealed details of the peerage nominations from senior members of the Labour Party."

The probe is also looking at the opposition Conservative and Liberal Democrat parties. A Tory spokesman said no shadow ministers had been contacted by police, apart from former leader Michael Howard.

Press reports have identified a number of specific cases where big lenders were allegedly given honorary titles, even claiming there were lists of prices for various honours, up to and including lordships.

The inquiry is thought to be focusing on the period in the run-up to the 2005 election.

Detectives have already interviewed Lord Michael Levy, Labour's main fundraiser, and it also emerged Wednesday that they had questioned former minister and close Blair ally Alan Milburn.

But confirmation of police contact with Brown and the rest of the cabinet moves the case for the first time into the heart of Downing Street, where Brown has a residence next door to Blair.

The fact that Blair is the only cabinet member not to receive a police letter appeared ominous -- especially after the Daily Telegraph reported that Blair himself will also be questioned "within weeks".

An unnamed senior source close to the investigation quoted by the paper said that there was "no suspicion" hanging over the cabinet ministers, who were being questioned as witnesses, not suspects.

Other members of Labour's ruling National Executive Committee (NEC) have been asked to say "formally in writing" what they knew about loans to the Labour Party, the source said.

"The police haven't suggested interviewing (Deputy Prime Minister) John Prescott, Gordon Brown or other members of the NEC and Cabinet," said another Labour source.

Meanwhile Britain's Attorney General, Lord Peter Goldsmith, reiterated that he intends to be involved in any decisions on bringing prosecutions in the cash-for-honours inquiry, despite being a close ally of Blair.

Critics claim there is a conflict of interest in having someone so close to Blair taking the final decision over whether to prosecute members of his government over the scandal.

But he said he would not stand aside from the process completely.