WASHINGTON - Control of Congress in sight, Democrats ousted Montana GOP Sen. Conrad Burns on Wednesday and pinned their hopes of seizing power in the Senate on a triumph in Virginia. The party looked to widen its margin of victory over Republicans in the House.
In an all-around banner election year for Democrats, voters frustrated about the direction of the country toppled Republicans at all levels of government in a searing rebuke of the status quo.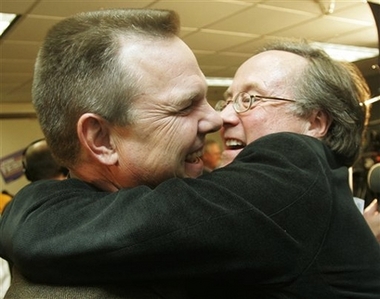 Democrat Jon Tester, left, and friend, Democratic Party activist, Joe Lamson, share a bear hug after Tester declared victory in his election battle for the Senate seat held by incumbent Republican Conrad Burns in Great Falls, Mont., Wednesday, Nov. 8, 2006. [AP]

"It was a thumpin,'" President Bush told reporters at a White House news conference. "It's clear the Democrat Party had a good night."

The incumbent, who spoke of spending his political capital after his re-election triumph two years ago, acknowledged, "As the head of the Republican Party, I share a large part of the responsiblity."

With power on Capitol Hill tilting, Bush faced the reality of at least half of Congress in the opposition's hands for the final two years of his presidency. He announced that Defense Secretary Donald H. Rumsfeld would step down as Democrats have demanded.

The war in Iraq, scandals in Congress and declining support for Bush and Republicans on Capitol Hill defined the battle for House and Senate control, with the public embracing the Democrats' call for change to end a decade of one-party rule in Washington.

"This new Democratic majority has heard the voices of the American people," said Rep. Nancy Pelosi, the California Democrat in line to become the nation's first female speaker, adding that Americans placed their trust in Democrats. "We will honor that trust. We will not disappoint."

With the GOP booted from power after a 12-year House reign, lame-duck Speaker Dennis Hastert, R-Ill., announced he will not run for leader of House Republicans when Democrats take control in January.

"Obviously I wish my party had won," Hastert said in a statement that added he intends to return to the "full-time task" of representing his Illinois constituents.

Her position atop the House all but assured, Pelosi said it may take "a couple of weeks" to determine the final division of power in the Senate but said that no matter the outcome "the numbers picked up by the Senate bode very well" for the Democratic agenda.

By early afternoon, Democrats had captured 50 Senate seats, including Montana, and Republicans held 49. The battle for power came down to Virginia, where Democrat Jim Webb, a former Navy secretary under Ronald Reagan, had a small edge over GOP Sen. George Allen.



| | | |
| --- | --- | --- |
| 1 | 2 | |