WASHINGTON - Democrats won control of the House early Wednesday after a dozen years of Republican rule in a resounding repudiation of a war, a president and a scandal-scarred Congress.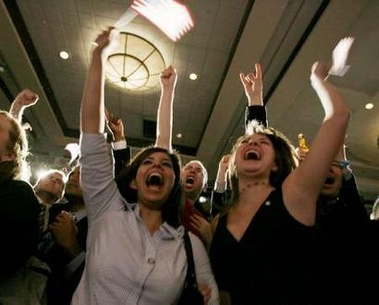 Democratic party supporters react as TV news first predict that the Democratic Party will control the U.S. House of Representatives at a mid-term election night party for the Democratic Party in Washington, November 7, 2006. Americans voted on Tuesday in elections for Congress that could curb the power of George W. Bush's Republicans, force a change of direction in Iraq and shape the legacy of a president with two years left in office. [Reuters]


"From sea to shining sea, the American people voted for change," declared Rep. Nancy Pelosi, the hard-charging California Democrat in line to become the nation's first female House speaker.
"Today we have made history," she said, "now let us make progress."
Faced with the inevitable, the White House made plans for President Bush to call Pelosi first thing in the morning; he will enter his final two years in office with at least half of Congress in the opposition party's hands.
Just after 1 a.m., Democrats had won 218 seats, enough to control the House, and were leading for another 15, which give them 233. Republicans, who hold 229 seats in the current House, won 176 and were leading in another 26, which would give them 202.
The Democrats won 24 Republican-controlled seats ,and no Democratic incumbent had lost by early Wednesday.