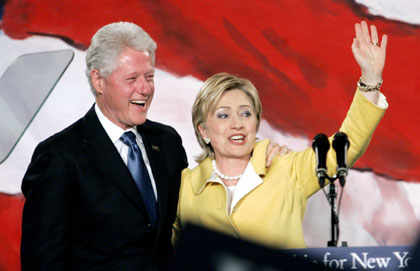 Democratic U.S. Senator Hillary Clinton and her husband, former President Bill Clinton are cheered by supporters after her acceptance speech at the New York State midterm election night celebration in New York November 7, 2006.



WASHINGTON - Resurgent Democrats toppled Republican senators in Pennsylvania, Ohio and Rhode Island and gained ground in the House Tuesday, challenging for control of Congress in midterm elections shaped by an unpopular war in Iraq and scandal at home.

Aided by public dissatisfaction with President Bush, Democrats won gubernatorial races in New York, Ohio and Massachusetts for the first time in more than a decade.

Charlie Crist was a bright spot for Republicans, keeping the Florida governorship now held by the president's brother Jeb in GOP hands.

"We are on the brink of a great Democratic victory," said House Minority Leader Nancy Pelosi of California, -- in line to become the first woman speaker in history if her party wins control -- as the returns rolled in.

With the polls still open in the West, Republican Party chairman Ken Mehlman conceded nothing about the House. "I think we will hold control of the Senate," he added.

In a comeback unlike any other, Sen. Joe Lieberman won a new term in Connecticut -- dispatching Democrat Ned Lamont and thus winning when it counted most against the man who had prevailed in a summertime primary. Lieberman, a supporter of Bush's war policy, ran as an independent, but will side with the Democrats when he returns to Washington.

Sen. Hillary Rodham Clinton coasted to a second Democratic term in New York, winning roughly 70 percent of the vote in a warm-up to a possible run for the White House in 2008.

Sen. Rick Santorum of Pennsylvania became the first Republican senator to fall to the Democrats, losing his seat after two conservative terms to Bob Casey Jr., the state treasurer.

In Ohio, Sen. Mike DeWine lost to Rep. Sherrod Brown, a liberal seven-term lawmaker.

Lincoln Chafee of Rhode Island, the most liberal Republican in the Senate and an opponent of the war, fell not long afterward to Sheldon Whitehouse, former state attorney general.

Indiana was particularly cruel to House Republicans. Reps. John Hostettler, Chris Chocola and Mike Sodrel all lost in a state where Republican Gov. Mitch Daniels' unpopularity compounded the dissatisfaction with Bush.

Republican Rep. Nancy Johnson lost in her bid for a 13th term in Connecticut, and Anne Northup fell in Kentucky after 10 years in the House.