LONDON - An al-Qaida operative was sentenced to life in prison Tuesday for plotting to bomb the New York Stock Exchange and other US financial targets and blow up landmark London hotels and train stations with limousines packed with gas tanks, napalm and nails.
The plans were designed to cause maximum carnage, the judge told Dhiren Barot, who stared blankly ahead as he learned he would not be eligible for parole for at least 40 years - one of the harshest sentences ever meted out in a British court.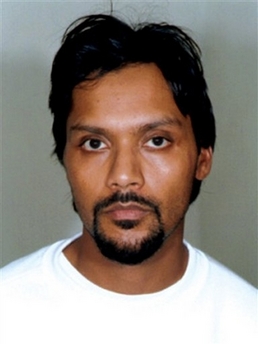 In this photo made available by the London Metropolitan Police on Monday Nov. 6, 2006 shows Dhiren Barot, 34, of Willesden, London in this undated handout photo. Barot, Muslim convert considered to be the highest ranking al-Qaida operative captured in Britain arrived at court amid heavy security Monday for a sentencing hearing in a plot to bomb major financial targets in the United States, such as the New York Stock Exchange and the International Monetary Fund headquarters in Washington, D.C. [AP]

Barot, a 34-year-old British convert to Islam who pleaded guilty last month to conspiring to commit mass murder, remains wanted by the United States and Yemen on separate terror-related charges. Under British law, he could be temporarily transferred to the United States to stand trial.

Investigators said Barot traveled the world to gain terrorist training, meeting terror leaders including Khalid Sheik Mohammed, the alleged architect of the September 11, 2001, attacks on New York and Washington.

Born in India and raised in London, Barot began plotting in 2000 to attack a host of financial industry targets in the United States. Investigators said he shelved the plan after the 9/11 attacks, focusing his efforts on ways to detonate limousines loaded with gas, napalm and nails.

His targets included landmark London hotels such as The Ritz and The Savoy, and railway stations such as London's Waterloo, Paddington and King's Cross, prosecutor Edmund Lawson said at the two-day sentencing hearing.

Barot fantasized about blowing up a subway train as it traveled in a tunnel below the River Thames - an attack that could "cause pandemonium ... explosions, flooding, drowning," according to documents filed with the court. Other planned attacks involved a radioactive dirty bomb and exploding a gasoline tanker.

"The conspiracy was in its final stages," Lawson said. The prosecutor said Barot submitted detailed proposals in February 2004 to al-Qaida financiers in Pakistan. It said the limousine plan required a six-man team and would kill hundreds. Barot estimated the cost would be about $115,000.

Proposals for the British attacks and strikes against the International Monetary Fund in Washington, the Citigroup headquarters in New York and the Prudential building in Newark, N.J., were sent like "corporate reports going to head office," Judge Neil Butterfield said.

Prosecutors acknowledged they had no firm timeframe for the attacks. Barot's lawyer, Ian MacDonald, pleading for leniency, said Tuesday the plans were "rough and exploratory" and far from fruition.

Details of the planned attacks in London resurrected fears of the July 7, 2005, suicide bombings that killed 52 people aboard three subways and a bus last year. The bombings deepened divisions between Muslims and non-Muslims, provoking an angry debate in Britain over religious tolerance and ethnic assimilation.



| | | |
| --- | --- | --- |
| 1 | 2 | |