LONDON - An al-Qaida operative who planned to blow up landmark London hotels using limos packed with gas tanks, napalm and nails, and plotted to attack the New York Stock Exchange and the World Bank was sentenced on Tuesday to life in prison.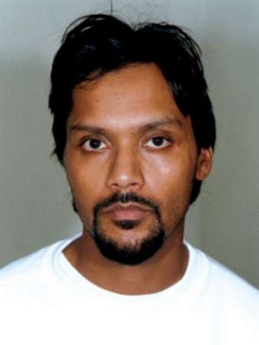 A police handout photograph released on November 6, 2006 shows Britain's Dhiren Barot, 34, who appeared for sentencing before Woolwich Crown Court, east London on Monday. [Reuters]


Dhiren Barot, a former airline ticket clerk and Muslim convert, pleaded guilty last month to conspiring to commit mass murder on both sides of the Atlantic. Prosecutors said Barot trained for years at terrorist camps around the world to refine skills with weapons, bomb-making and chemicals, Lawson said.
He became quickly inspired to plot a "memorable black day for the enemies of Islam," said the prosecutor, Edmund Lawson, quoting a passage from Barot's notebook.
Barot, 34, wrote to leaders of the terrorist network in documents that detailed a series of synchronized strikes in Britain ! including a plan to blow up a subway car as it passed through a tunnel below the River Thames ! and several attacks targeting U.S. financial targets such as the New York Stock Exchange, the World Bank headquarters in Washington and the Prudential building in Newark, N.J.
Prosecutors said British attacks were "imminent." They said Barot put the U.S. plot on hold after the Sept. 11, 2001, attacks.
In a detailed proposal submitted to al-Qaida financiers in Pakistan, Barot planned to use a six-man team to blow up limousines in underground parking garages ! a plan that Barot said would kill "hundreds if the building collapses."
Lawson said Barot also wrote in documents that he wanted to add napalm and nails to the limousine bombs to "heighten the terror and chaos." He also considered adding radioactive material, Lawson said, but decided a dirty bomb should be used in a separate attack.
"You have chosen to use your life to bring death and destruction to the Western world," Judge Neil Butterfield said as he passed the sentence. "You planned to slaughter hundreds, if not thousands, of wholly innocent men, women and children."
Butterfield described the plans as determined, sophisticated and deadly.
"You were planning to bring indiscriminate carnage, bloodshed and butchery ! first in Washington, Newark and New York ! and then London," Butterfield said.
Barot is wanted in the United States and Yemen on separate terror-related charges.
After his sentencing, he will be transferred to the United States to face a four-count indictment, which includes a charge of conspiracy to use weapons of mass destruction, according to a spokesman for the Home Office, who spoke on condition of anonymity because of the sensitivity of the case.
Under the alias Issa al-Britani, Barot was named in the report of the U.S. commission investigating the Sept. 11, 2001, attacks, as an associate of Khalid Sheikh Mohammed, the alleged Sept. 11 planner.
The Associated Press, The British Broadcasting Corp., and Times Newspapers Ltd. successfully challenged a court ruling that threatened to prevent news media reporting details of Barot's sentencing hearing.
Butterfield had ruled that publishing details of the case could prejudice trials of Barot's seven co-defendants, scheduled to take place in London next year.