MANAGUA, Nicaragua - Daniel Ortega, the revolutionary Marxist who battled a US-backed Contra insurgency in the 1980s, was closing in on Nicaragua's presidency, appearing Monday to have defeated four opponents with promises that he was a changed man.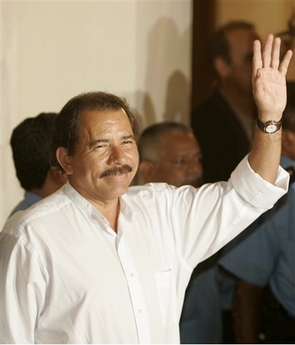 Nicaragua presidential candidate Daniel Ortega of the Sandinista National Liberation Front (FSLN) waves to the press as he arrives for a private meeting with former US president Jimmy Carter in the city of Managua, Nicaragua on Monday Nov. 6, 2006. [AP]

Electoral officials had yet to release final results from Sunday's vote, but preliminary results and two of the country's top electoral watchdog groups all gave Ortega about 40 percent of the vote. That was more than enough to avoid a runoff against Harvard-educated banker Eduardo Montealegre, who trailed by at least seven percentage points.

Former Contra rebel and last-place presidential candidate Eden Pastora admitted defeat Monday. But the other three candidates refused to recognize Ortega's victory, saying they would wait until all the votes had been counted. The United States, which has threatened to pull aid from an Ortega government, also said it was too soon to declare the Sandinista leader a winner.

"This isn't over until the last vote has been counted," Montealegre said.

If his victory is confirmed, the Cold War icon would join a growing number of leftist Latin American rulers, led by Venezuela's Hugo Chavez, who has tried to help his Nicaraguan ally by shipping cheap oil to the poor, energy-starved nation.

"This is good for the people of Nicaragua and for the integration of Latin America," Cuban Foreign Minister Felipe Perez Roque told The Associated Press Monday.

Ortega's supporters celebrated in the streets Monday, with caravans of hundreds of cars filing into the capital, honking, waving party flags and blasting the Sandinista campaign song, set to the tune of John Lennon's "Give Peace a Chance."

Ortega met Monday evening with former President Jimmy Carter, who served as an election observer. But Ortega did not declare victory, saying "no one wins until the electoral council says so."

Herberto Jose Lopez, who earns about $235 a month selling CDs from a kiosk, said Monday he voted for Ortega in hopes that he would help Nicaragua's poor.

"I've got a wife and kid and I'm lucky because I have a job, but most people will tell you the same thing: The current administration just governs for the guys in ties," said the 32-year-old Lopez.

Some Nicaraguans worried that an Ortega win would drive away the country's business leaders and elite, as they did the first time he came to power.

"We're just trying to figure out which country to go to," said 27-year-old Karen Sandoval, a Coca-Cola marketer shopping with a friend at an upscale Managua mall. "This sets the country back 20 years."



| | | |
| --- | --- | --- |
| 1 | 2 | |