MANILA, Philippines - Imelda Marcos - notorious for her extensive shoe collection and eye-popping jewels accrued under her husband's dictatorship - is launching a jewelry collection using castoffs from her wardrobe and, she claims, flea market finds.
Marcos, known for her shopping trips to ritzy shops in New York while the country wallowed in poverty, says she made the pieces from her old accessories and clothes, mixed with newly bought stones and other materials.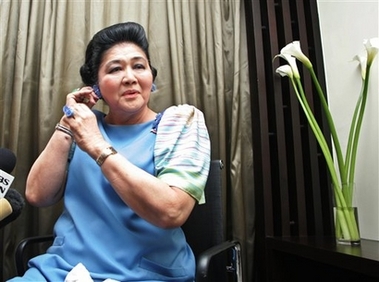 Former Philippine First Lady Meld Marcos, wearing her collection of jewelry she made herself, talks to the media during a break in her own photo shoot for a brochure to launch her own fashion accessories called 'The Imelda Collection' at a posh hotel in Manila Monday Nov. 6, 2006. [AP]


Her daughter, Rep. Imee Marcos, said that unknown to many people, her mother shops for trinkets and accessories at flea markets, and keeps earrings with a missing pair or brooches that have some missing stones.

Using a glue gun, scissors or pliers, her mother "can combine them with her vintage items in a way that comes out beautiful," Imee Marcos told journalists Monday during a promotional photo shoot for "The Imelda Collection," which is to be launched Nov. 18 in Manila.

The 77-year-old widow of Ferdinand Marcos reclined on a divan in the seaside garden of a Manila hotel to pose for photos Monday, modeling several chunky necklaces, rings and bracelet sets for a brochure of the collection.

Pointing to a set of matching earrings and brooch made of blue imitation tiger eye stone she was wearing, she told reporters, "This thing I wear now is something I recycled."

She said the jewelry collection was the idea of her grandson, Martin "Borgy" Manotoc, who told her, "You are creating beautiful things, like jewels from practically garbage."

The first designs are only for jewelry and will "not yet" include shoes, her daughter said. But an aide said there are plans to expand the collection to include shoes, clothes and possibly furniture.

Describing how the collection came to be, the former first lady recalled, "One day my grandson came to me and said, `Mama Meldy, I would like to use your collection to tell the world the real Imelda and the spirit of my grandma.'"

"What we are selling is not something valuable, but ... it is something invaluable because it's only beauty that can feed the spirit," she said.

Marcos said the items would be inexpensive, costing from US$20 to US$100. But her daughter said prices and details about the collection are still being ironed out.

"The accessories are just an excuse. It's just a visual and tactile reminder of this attitude she wishes to share, the Imelda spirit, the Imelda way and that's what it will represent," Imee Marcos said.

The jewelry collection is a far cry from the dozens of suitcases of genuine diamond tiaras, ruby brooches, emerald necklaces and other jewels the government confiscated from Marcos and which officials plan to auction off.

The Marcoses have been accused of amassing ill-gotten wealth and were driven out of the presidential palace by a military-backed nonviolent "people power" uprising in 1986. The ousted strongman died in exile in Hawaii three years later.

The government has recovered about US$1.6 billion in cash and assets from the Marcoses and their associates, including Swiss bank deposits now worth about US$680 million.

Ricardo Abcede, a member of a commission recovering the Marcoses' wealth, said about $4.4 billion worth of assets are tied up in criminal and civil cases in the Philippines. The total amount of the Marcoses' assets abroad is unknown.