GAZA CITY, Gaza Strip - The Palestinian president and prime minister, heading rival movements, on Monday failed again to agree on a joint government that might lead to lifting Western sanctions that have bankrupted their administration - but they planned to keep trying.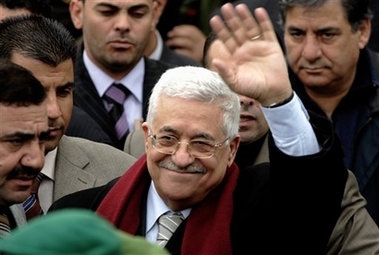 Palestinian President Mahmoud Abbas, also known as Abu Mazen, waves to Palestinian students demonstrating as he leaves after opening an exhibition in the West Bank town of Ramallah, Monday, Nov. 6, 2006. [AP]

President Mahmoud Abbas, a moderate, and Prime Minister Ismail Haniyeh of Hamas met in Gaza for more than two hours. But officials said the talks ended with no accord on a national unity government made up of independent experts. Both sides said talks would continue Tuesday; they would not say what issues remain open.

Mustafa Barghouti, an independent politician playing a key role in the talks, called the meeting "fruitful." He said, "There was agreement on some issues, but some issues still need to be discussed."

The talks came as fighting in northern Gaza heated up on the sixth day of an Israeli offensive. At least seven Palestinians were killed, including a suicide bomber.

Islamic Jihad released a video of the bomber, identified as Mirvat Masoud, after she blew herself up, wounding an Israeli soldier. "My dear mother, I ask you to remain strong and forgive me, and God willing, we will meet in heaven," she said on the video. Only a few of the more than 100 Palestinian suicide bombers in the past six years were women.

An Israeli missile aimed at a group of militants landed near a Palestinian kindergarten, killing a teenage boy, critically wounding a teacher and seriously wounding eight children, doctors said.

The army said an airstrike in the same area targeted four militants coming to collect launchers used to fire rockets into Israel.

Abbas has been urging Hamas, which controls most government functions, to join his Fatah movement in a coalition to end international sanctions. The platform of the emerging government is vague about the key international demand of recognizing Israel and may not be enough to end the painful aid boycott.

Negotiators and officials in Hamas, which has repeatedly rejected the international conditions since winning legislative elections in January, said an agreement on forming a government was imminent.

"We are getting closer and closer toward a deal. Without having a strong opportunity for this deal, Abu Mazen would not have come," Barghouti said. Abbas is also known as Abu Mazen.

Under the emerging plan, the Hamas Cabinet and prime minister would step down and be replaced by a team of experts in hopes of ending the Western boycott, imposed when Hamas came to power in March.



| | | |
| --- | --- | --- |
| 1 | 2 | |