N. Korea wants bank accounts unfrozen
More on North Korea Nuke Issue
BEIJING - China said on Thursday it wanted an early resumption of six-party talks aimed at ending North Korea's nuclear programme.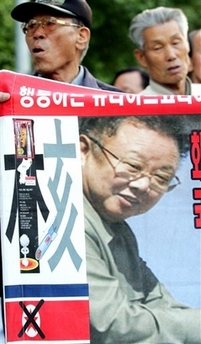 A banner featuring a portrait of North Korean Leader Kim Jong Il. [AP]

Chinese Foreign Ministry spokesman Liu Jianchao said no date had been set for the long-stalled talks, but he made it clear Beijing was keen for a quick restart.
"If we're prepared and each side agrees, then sooner the better," he told a regular news briefing in Beijing.
Thursday's remarks were the first official Chinese comment since North Korea agreed on Tuesday to return to the six-party talks, grouping the two Koreas, China, the United States, Japan and Russia.
Washington has said it will "address" North Korea's concerns about a U.S. clampdown on its external financing in the next round of talks, which Pyongyang had boycotted since November last year in protest at those restrictions.
Liu praised the "flexibility" over the financial standoff that Pyongyang and Washington showed in Tuesday's breakthrough meeting.
North Korea's nuclear test on October 9 drew worldwide condemnation and United Nations sanctions under Resolution 1718.
"Resolution 1718 in fact reflects the consensus of the international community and each country has a duty to strictly and responsibly implement it and China is no exception," Liu said.
"China has never approved of using pressure and sanctions to solve problems," he said.