WASHINGTON - US President Bush said Wednesday he wants Defense Secretary Donald Rumsfeld and Vice President Dick Cheney to remain with him until the end of his presidency, extending a job guarantee to two of the most-vilified members of his administration.
"Both those men are doing fantastic jobs and I strongly support them," Bush said in an interview with The Associated Press and others.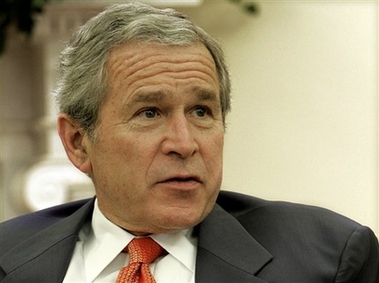 President Bush meets with wire service reporters in the Oval Office of the White House in Washington, Wednesday, November 1, 2006. [AP]
On the war in Iraq, Bush said the military has not asked for an increase in US forces beyond the 144,000 already there. He said US generals have told him "that the troop level they got right now is what they can live with."
On another international issue, Bush said he was determined that sanctions imposed against North Korea must be applied even though Pyongyang has agreed to return to six-nation nuclear disarmament talks.
The president spoke in the Oval Office, seated in a wing chair in front of a table with a bowl of roses. Six days before midterm elections, he steered away from political questions beyond saying he was confident that Republicans would defy the polls and hold control of the House and Senate. "I understand the pundits have got the race over. But I don't believe it's over until everybody votes," Bush said.
He refused to say whether he could work effectively with House Minority Leader Nancy Pelosi or Senate Minority Leader Harry Reid if Democrats won either the House or Senate, or both.
Bush did take the opportunity to take another poke at Sen. John Kerry, in political hot water for a remark that the White House has characterized as a slam on US troops in Iraq. Kerry has said he was making a joke critical of Bush, not the troops.
"It didn't sound like a joke to me," the president said.
Democrats and Republicans alike have called for Rumsfeld's resignation, arguing he has mishandled the war in Iraq where more than 2,800 members of the US military have died since the US-led invasion in March 2003. Cheney has faced sharp criticism for his hardline views. In recent polling, less than 40 percent of respondents had a favorable view of Cheney and about a third had a favorable view of Rumsfeld.
Bush said he valued Cheney's advice and judgment.
"The good thing about Vice President Cheney's advice is, you don't read about it in the newspaper after he gives it," the president said. While Cheney was re-elected with Bush for four years, there has been recurring speculation that he might step down, perhaps for health reasons. As a practical matter, Bush could ask the vice president to leave if he wanted.
Bush credited Rumsfeld with overseeing wars in Iraq and Afghanistan while overhauling the military. "I'm pleased with the progress we're making," the president said. He replied in the affirmative when asked if he wanted Rumsfeld and Cheney to stay with him until the end.
| | | |
| --- | --- | --- |
| 1 | 2 | |