BAGHDAD, Iraq - More than 40 Shiites were abducted along a notoriously dangerous highway just north of Baghdad, police said Wednesday, and the death toll from a suicide bombing at a wedding party rose to 23, including nine children.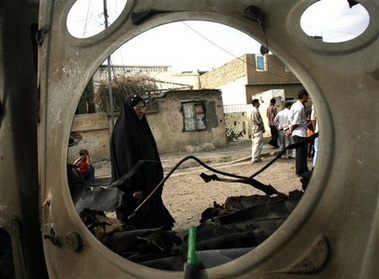 A woman looks at the carnage at the spot where a suicide car bomber slammed into a wedding party in Baghdad, Iraq, Wednesday Nov. 1, 2006. A suicide car bomber struck a wedding party in Baghdad on Tuesday afternoon, killing 23 people, including nine children, and wounding 19 others, police reported. [AP]






At least eight other people were either found dead or slain in new attacks Wednesday, including one person killed in a car bomb attack in Baghdad's central market, which wounded five others, police Lt. Ali Hassan said. The death toll in the market attack was likely to rise, he said.

The abductions Tuesday near the town of Tarmiyah were another outbreak of sectarian violence in a region where scores were killed last month in reprisal killings among formerly friendly Shiite and Sunni neighbors in the city of Balad.

Unarmed men checked identification cards and seemed to be looking for familiar faces among travelers stopped in heavy traffic, said an eyewitness, who asked to be identified only by the pseudonym Abu Omar for fear of reprisals.

Armed gunmen stood nearby during the abductions, just out of sight of U.S. soldiers who were disarming a roadside bomb nearby, Abu Omar said. He and other Sunni travelers were allowed to travel onward after showing their ID cards, he said.

At least 40 travelers were missing and feared abducted, said an officer at the Joint Cooperation Center in the city of Tikrit, 80 miles north of Baghdad, who spoke on condition of anonymity for fear of reprisal.

Qassim al-Suwaidi, a doctor at Al-Sadr Hospital, said, meanwhile, that 12 victims of Tuesday's attack on a Shiite wedding in Baghdad had died from their injuries. Eleven were killed on the spot, he said. Another 19 were still being treated at the hospital.

The attack, in which a bomber drove an explosives-rigged car into a crowd outside the bride's home, resembled recent killings aimed at sparking Shiite retaliation and pushing Iraq toward all-out civil war - a stated goal of the al-Qaida in Iraq extremist group.

Police said U.S. and Iraqi forces on Tuesday night stormed an office in the southwestern hamlet of Ahrar belonging to the al-Sadr organization, sponsors of the feared Mahdi Army militia linked to sectarian murders and other violence.

| | | |
| --- | --- | --- |
| 1 | 2 | |