Online daters turn to matchmakers
(Reuters)
Updated: 2006-11-01 15:47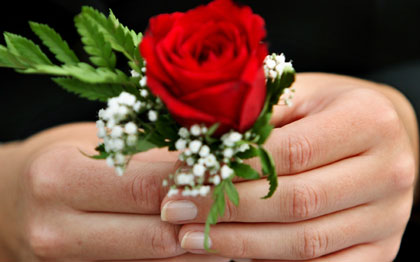 A woman holds a rose to celebrate Valentine's Day in Dubai in this February 14, 2006 file photo. Online daters, disappointed by potential partners lying about their age, weight or marital status, are turning to professional matchmakers to find love. [Reuters]



LONDON - Online daters, disappointed by potential partners lying about their age, weight or marital status, are turning to professional matchmakers to find love.

Rather than risk taking pot luck online, chief executives, entertainers and politicians are among those paying thousands of dollars to matchmakers to discreetly "headhunt" and vet the perfect partner.

"In the old days you had your extended family, or in some societies an actual matchmaker, trying to find someone for you," said dating expert Mary Balfour.

"Nowadays people have a personal matchmaker in the same way they would have a personal trainer," she said at her Drawing Down the Moon agency in London's Adam and Eve Mews.

The stigma of online dating has waned since Internet dating sites sent thunderbolts flying in the world of romance and revolutionised the way people found partners.

Websites now abound for straight, gay, Jewish, Christian, disabled or millionaire daters, but figures show a large chunk of those looking for love in cyberspace are disillusioned.
"So many people have had nightmare experiences with people misrepresenting themselves," said Christie Nightingale, principal of New York-based Premier Match LLC.

Nightingale said about 80 percent of her clients had tried online dating before coming to her with horror stories.

The online dating industry is lucrative, reeling in about $500 million in the United States and about 160 million euro ($203 million) in Europe last year, said JupiterResearch.

A survey earlier this year by Pew Internet and American Life Project found that about 16 million Americans had used an online dating website.

But while 52 percent said they had mostly positive experiences, 29 percent reported negative experiences.

"A percentage of men I met online were absolute freaks. I don't think any of them were the mad axe man type, but if you'd met them anywhere else you wouldn't touch them with a barge pole," said London nursing manager Joanna Haworth, 36.

"Some might have used photos from three years ago when they were three stone lighter. One man spent all the time talking about his ex-wife. He was still desperately in love with her".

DON'T MENTION THE EX

Showing off an album full of wedding invitations from former clients, Balfour said her matchmaking service had taken off in the past year for clients willing to shell out up to 8,000 pounds ($15,000) in the hope of a "happy ending".

Her agency employs a team of women to scour social and business events for potential matches.

Nightingale hand outs a list of "do's and don'ts" to her clients before they head off for dates -- such as turn off your cell phone and don't talk about former partners.

Some top-end US matchmakers -- who charge up to $25,000 -- also organise makeovers and relationship coaching for clients.

"In New York, London, Los Angeles, or Tokyo, where there's a lot more money and the demographic niche market is professional singles in their 30s and 40s, they really want an all inclusive, personalised service," said Lisa Clampitt, co-founder of the US-based Matchmaking Institute that also trains matchmakers.

Disenchanted with online dating and keen to put as much effort into finding a partner as he did to his career, Los Angeles product designer Bill Conley signed up for relationship seminars at matchmaker Julie Ferman's Cupid's Coach agency.

"Los Angeles is the temple of the external appearance. Everyone does a good job of hiding themselves underneath a lot of gloss, expensive clothes and plastic surgery," said Conley.

"She matches you more on a personality level, it's not scientific, it's more of a traditional matchmaking role. I told her a lot about myself, the things that were important to me," he added.

A recent US legal case highlighted the potential pitfalls of cyberspace dating.

In a first for the dating and relationship industry, US online service True.com announced a landmark civil prosecution victory in October against a convicted felon and registered sex offender from California who misrepresented himself online.

"Almost universally people misrepresent themselves in online dating, you never know what you're getting. I found I was chatting with someone who ended up being in a cybercafe in Nigeria and tried to squeeze me for $300," said Conley, 42.


Most Commented/Read Stories in 48 Hours