MOSCOW - The top Russian and US military officers signed a cooperation agreement Monday that lays out plans for joint activities for the coming year, officials said.
Marine Corps Gen. Peter Pace, chairman of the Joint Chiefs of Staff, said he and Gen. Yuri Baluyevsky, his Russian counterpart, signed the document, but did not disclose details of the proposals.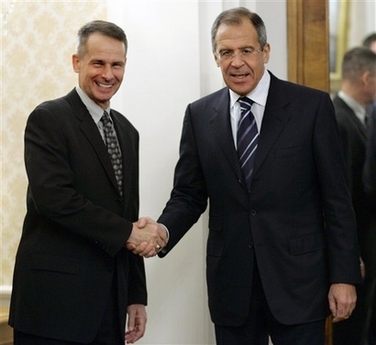 Russian Foreign Minister Sergey Lavrov, right, meets the US Joint Chiefs of Staff Gen. Peter Pace in Moscow, Monday, October 30, 2006. It was US Marine Corps Gen. Peter Pace's first visit to Russia since being named chairman of the Joint Chiefs of Staff last year. [AP]
"I came to listen and learn about ways we can do good military-to-military for both Russia and the United States," said Pace, who was making his first appearance in Moscow since becoming chairman of the joint chiefs.
Baluyevsky said the Russian and US analysis of many issues was "very close" but he and Pace would discuss "problems to which ... we must find solutions and adopt these solutions as quickly as possible."
Pace said he had no doubt that "together we can find proper solutions."
"I am anxious for military-to-military cooperation to show through its transparency the potential for our two nations to walk into the future hand in hand," Pace said.
Russian Foreign Minister Sergey Lavrov said the former Cold War foes bear the brunt of responsibility for 'supporting strategic security in the world.
"This is a unique responsibility, and other countries look to us with the hope that we will continue to support it," Lavrov said after meeting with Pace.
Earlier, Pace lay a wreath at the tomb of the unknown soldier and called the experience "a very poignant reminder to me of the very special relationship our two nations have had for many years."
Russia has been highly critical of the American-led campaign in Iraq, while the US has criticized Russia's cooperation with Iran despite that country's alleged nuclear weapons program. Russia has also objected to US plans to deploy missile defenses in NATO nations in Eastern Europe.