Reese Witherspoon, Ryan Phillippe split
(AP)
Updated: 2006-10-31 10:19
LOS ANGELES - Reese Witherspoon and Ryan Phillippe, who started the year on an Oscar-winning high, are ending it on a low note: The couple have separated.
"We are saddened to announce that Reese and Ryan have decided to formally separate," publicist Nanci Ryder said in a statement issued Monday on behalf of the couple.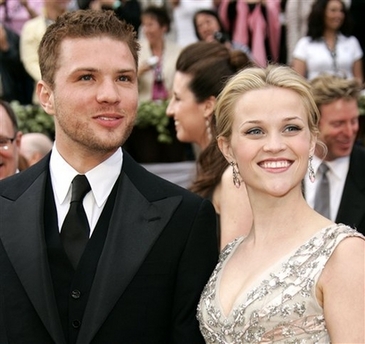 Ryan Phillippe arrives with his wife Reese Witherspoon at the Academy Awards, in this March 5, 2006 file photo, in Los Angeles. Witherspoon and husband have separated according to a statement by spokeswoman Nanci Ryder issued on behalf of the couple Monday, Oct. 30, 2006. [AP]
"They remain committed to their family and we ask that you please respect their privacy and the safety of their children at this time," the brief statement concluded. Ryder said she could not elaborate on the split.
Witherspoon, 30, and Phillippe, 32, have two children, 7-year-old Ava and 3-year-old Deacon. The couple, who co-starred in the 1999 movie "Cruel Intentions," married that year.
In March, Witherspoon won a best-actress Academy Award for her role as June Carter Cash in 2005's "Walk the Line." Phillippe co-starred in the best-picture winner, "Crash," and is starring in Clint Eastwood's latest film, the World War II drama "Flags of Our Fathers."