The billionaire software engineer set to become the next space tourist said he's been interested in space since his boyhood in the Soviet Union.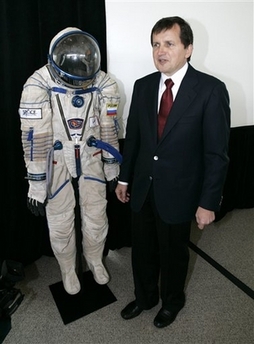 Space tourist Charles Simonyi stands Thursday, Oct. 26, 2006 in Seattle next to a space suit similar to the one he will wear when he travels into space next year. The billionaire software engineer, who helped develop two of the world's most popular software applications, Microsoft Corp.'s Word and Excel, is scheduled to go into orbit on March 9, 2007, aboard a Soyuz TMA-10 en route to the International Space Station. Simonyi paid more than an estimated $20 million for the trip through the space tourism company Space Adventures Ltd. [AP]
Charles Simonyi, 58, left Hungary at 17, roughly a decade after the launch of Sputnik, the first man-made satellite. He came to the United States to study engineering and computer science, and went on to help develop two of the world's most popular software applications, Microsoft Corp.'s Word and Excel.
Simonyi is paying Space Adventures Ltd. of Vienna, Va., $20 to $25 million to take him to the

International Space Station in March aboard a Russian Soyuz spacecraft, the company said. He would be the fifth person the company has taken to space.
"Dr. Simonyi has been successful in a much larger way on Earth than we've been in space," said Eric Anderson, the company's president and chief executive.
Simonyi worked for Xerox Corp. in California for eight years before moving in 1981 to Microsoft, which he left to found Intentional Software Corp. in 2002 in nearby Bellevue.
He said Thursday he felt like he was making a contribution to the future of civilian space flight, helping with space research and encouraging kids to get interested in science.
His own interest in space as a child helped him learn English — some of his first English words were "propellant" and "nozzle" — and his knowledge of space trivia led to victory at age 13 in a junior astronaut contest. The prize was a trip to Moscow and a chance to meet one of the first cosmonauts, Pavel Popovich.
Although he will be helping with science experiments and some menial tasks during the eight-day trip, Simonyi said he will be spending a lot of time just hanging out, observing, taking pictures and looking out the window.
Simonyi will be blogging on a Web site designed to appeal to younger space enthusiasts and adults interested in space travel.
"I want to share all that I learn with everybody, especially with kids," he said.
Simonyi's friend and former colleague, Microsoft co-founder Paul Allen, is making his own contributions to space tourism by investing in research to build civilian spacecraft.
"He's very happy. He was one of the first people I told about my decision," Simonyi said.