Iran has expanded its nuclear program by enriching uranium in a second network of centrifuges, a semi-official news agency reported Friday.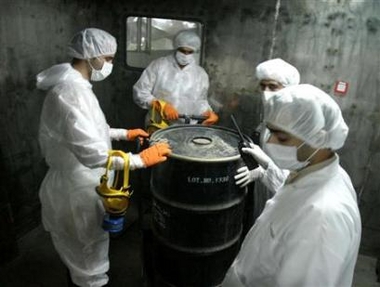 Iranian technicians lift a barrel of 'yellow cake' to feed it into the processing line of a uranium conversion facility in Isfahan, August 8, 2005. [Reuters]
The news came as world powers worked on a draft U.N. Security Council resolution that could impose limited sanctions on Iran because of its refusal to cease enrichment — a process that can produce fuel for a civilian nuclear reactor or fissile material for a warhead.
The Iranian Students News Agency quoted an anonymous official on Friday as saying that Iran has begun successfully injecting gas into a second set of centrifuges.
"We are injecting gas into the second cascade, which we installed two weeks ago," the anonymous official was quoted by ISNA as saying. "We have already exploited the product of the second cascade."
Iranian authorities are believed to leak ISNA information that they want published but consider too sensitive for release in the official media.