Police fanned out around the outskirts of Paris amid fears of renewed violence Friday as mourners marked the deaths a year ago of two teenagers that ignited three weeks of riots in largely immigrant housing projects across France.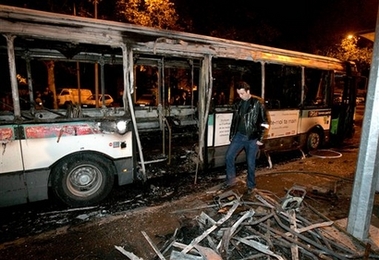 A French police investigator inspects the charred remains of a city bus Wednesday, Oct. 25, 2006, at the bus station of Nanterre, west of Paris. The bus was set on fire on Wednesday night in Nanterre by a gang of youths, after they forced passengers out. The attack came as France prepares to mark on Friday the one-year anniversary of riots last year by suburban youth, and raised the specter of a repeat of the three weeks of violence. [AP]


The outburst of anger at the accidental deaths of the youths, electrocuted in a power substation while hiding from police, grew into a broader challenge against the French state that has continued to simmer.

Attackers have torched four buses after forcing off passengers in the outskirts of Paris in recent days, and police have been ambushed in several organized attacks in recent weeks, raising fears of a new wave of violence around the anniversary.

Interior Minister Nicolas Sarkozy pledged Thursday to assign police to protect buses serving some of the troubled communities, and more than 500 extra riot police have been assigned to beef up security this week.

Last year's events jolted France into recognizing its failure to offer its 5 million Muslims, and its minorities ¡ª especially those of Arab and black African origin ¡ª a fair shake. Instead of France's vaunted "egalite," or equality, immigrants and their French-born children suffer police harassment, struggle to find work, and live in cinderblock public housing rife with crime and poverty.

The government passed an equal opportunities law this spring and has poured funds into "sensitive" areas, but disenchantment still reigns.

On Friday, several hundred residents of Clichy-sous-Bois and other communities outside Paris held a silent march in honor of Zyed Benna and Bouna Traore, the teens of African descent who took refuge in a power substation from what they thought was a police chase on Oct. 27, 2005. In the minds of young people here, it was fear of police that led to their deaths.

No police were visible at Friday's march.

Carrying a banner reading "Dead For Nothing," families of the teens led the ethnically diverse crowd away from city hall toward the power station.

"They became a symbol in the projects. People came here in large numbers because they wanted to show their solidarity," said a cousin of Traore who gave her name as Coulibaly.

"I don't see why the violence should recur. That will not solve the problems," she added.

A memorial to the youths was erected near city hall later Friday, though the site where they died is adorned only with the graffiti and rubble that are the signature of such neighborhoods.

Clichy-sous-Bois has no police station, so officers patrolling here come from outside and have no connection to residents. There is no public transport and few here have private cars, leaving most people virtually trapped. Unemployment among its 28,000 residents is well above the 9 percent national average, at 23.5 percent, and rises to 32 percent for those between the ages of 15 and 24, according to the newspaper La Croix.

France's inability to better integrate minorities and the recent violence have become key issues in the campaign for next year's presidential and parliamentary elections.

Candidates for the opposition Socialist Party's presidential nomination criticized the government's handling of the issue during a debate Thursday night ahead of next month's party primary.

Former Prime Minister Laurent Fabius said the recent flare-up of violence showed the government's policies are a "total failure."

"One year ago, Bouna and Zyed were burned to a cinder," he said. "Nothing has changed" since then, he said.

Sarkozy, the interior minister and leading contender on the right, is blamed by many for fueling the riots with hard-line statements about youths in the projects.

"I have decided to mobilize all the mobile forces we dispose of in order to serve those who take public transport," Sarkozy said following a meeting Thursday evening with public transportation officials.

The 500 additional police officers pulled in to the outskirts of Paris this week will be in five units meant to reinforce the 13 units already assigned to the area.

"It's better to be over-prepared than to come up short," said Marc Gautron, national secretary of the UNSA police union. "We want to be able to make the maximum number of arrests if a bus or a person are attacked."

Another police union, Alliance, called for officers to stage protests in front of city halls across France on Nov. 13.

"Police cannot be the only ones to confront the difficulties of the suburbs," said Alliance Secretary General Jean-Claude Delange.