BAGHDAD, Iraq - An angry Prime Minister Nouri al-Maliki disavowed a joint US-Iraqi raid in the capital's Sadr City slum Wednesday, and criticized the top US military and diplomatic representatives in Iraq for saying his government needs to set a timetable to curb violence in the country.
Al-Maliki spoke at a news conference a day after US Ambassador Zalmay Khalilzad said Iraqi leaders had agreed to set deadlines by year's end for achieving specific political and security goals laid out by the United States, including reining in militia groups.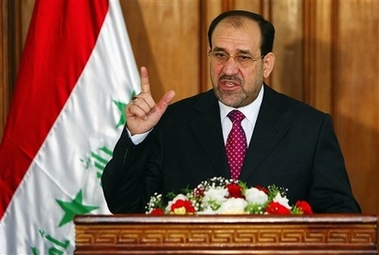 Iraqi Prime Minister Nouri al-Maliki speaks to the media at a press conference Wednesday October 25, 2006 in the fortified Green Zone in Baghdad. [AP]
"I affirm that this government represents the will of the people and no one has the right to impose a timetable on it," the prime minister said.
The prime minister dismissed US talk of timelines as driven by the coming midterm elections in the United States. "I am positive that this is not the official policy of the American government but rather a result of the ongoing election campaign. And that does not concern us much," he said.
Al-Maliki complained that he was not consulted beforehand about the Sadr City offensive. The raid was conducted by Iraqi special forces backed by US advisers and was aimed at capturing a top militia commander wanted for running a Shiite death squad.
"We will ask for clarification to what has happened," al-Maliki said. "We will review this issue with the Multinational Forces so that it will not be repeated."
Mouwafak al-Rubaie, his national security adviser, later told The Associated Press that al-Maliki's anger grew out of a misunderstanding that had since been cleared up with Gen. George Casey, the top U.S. commander in Iraq.
While the U.S. military said the raid had been cleared in advance with al-Maliki's government, President Bush acknowledged that al-Maliki himself may not have been consulted.
"We need coordinate with him. That makes sense to me. And there's a lot of operations taking place which means sometimes communications are not as good as they should be. And we'll continue to work very closely with the government to make sure communications are solid," Bush said at his own news conference.
Military action in Sadr City is especially sensitive for the prime minister.
Until Wednesday, US and Iraqi forces had largely avoided the densely populated slum, a grid of rutted streets and tumble-down housing that is home to 2.5 million Shiites and under the control of anti-American cleric Muqtada's al-Sadr's Mahdi Army.
| | | |
| --- | --- | --- |
| 1 | 2 | |