HOUSTON - Former Enron CEO Jeffrey Skilling was ordered Monday to serve 24 years and four months in prison, the harshest punishment by far in Enron's scandalous collapse and one that capped a string of tough sentences for top executives in corruption cases.
US District Judge Sim Lake denied Skilling's request for bond and ordered him to home confinement, wearing an ankle monitor. Lake, who told the U.S. Bureau of Prisons to recommend when Skilling should report to prison, suggested the 52-year-old be sent to the federal facility in Butner, N.C., for his role in a case that came to symbolize corporate fraud in America.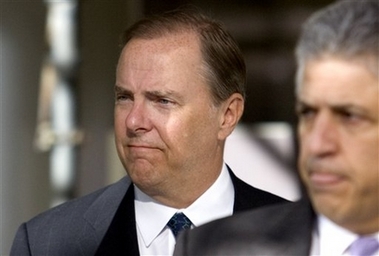 Former Enron CEO Jeff Skilling, left, and his attorney Daniel Petrocelli, right leave the federal courthouse after Skilling was sentenced to 292 months in federal prison Monday, Oct. 23, 2006 in Houston. Skilling was convicted in May of 19 counts of fraud, conspiracy, insider trading and lying to auditors. [AP]
"His crimes have imposed on hundreds if not thousands a life sentence of poverty," Lake said.
The former chief executive officer will be eligible to shave up to 54 days a year off his sentence for good behavior in prison. Lake also ordered Skilling to undergo alcohol and mental-health counseling. A successful completion of that treatment would take a year off his sentence.
Skilling, insisting he was innocent yet remorseful in a two-hour hearing, was the last top former official to be punished for the accounting tricks and shady business deals that led to the loss of thousands of jobs, more than $60 billion in Enron stock and more than $2 billion in employee pension plans after the company imploded in 2001.
His remaining assets, about $60 million, will be liquidated, according to an agreement among lawyers for Enron employees, the company's savings and stock ownership plans, prosecutors and Skilling's legal team.
About $45 million will be put in a restitution fund for victims. The remaining $15 million will go to Skilling's legal fees, said Lynn Sark, attorney for the Enron Corp. Savings Plan and Stock Ownership Plan. The Justice Department allowed Skilling to set aside $23 million for his defense when he was indicted; he still owed his lawyers $30 million as of Monday.
Outside the courthouse, Skilling vowed to appeal his sentence and also asked that his restitution money go straight to victims, instead of being seized first by the federal government. His attorney, Daniel Petrocelli, said the restitution will be held until all of Skilling's appeals are exhausted.
Skilling had stood with his hands clasped below his waist, with Petrocelli at his side while being sentenced. He gave no visible reaction. After court adjourned, Skilling hugged Petrocelli.
Skilling's term is the longest received by any Enron defendant; former Chief Financial Officer Andrew Fastow was given a six-year term after cooperating with prosecutors and helping them secure Skilling's conviction.
It falls just shy of the sentence imposed on WorldCom CEO Bernard Ebbers, who received 25 years for his role in the $11 billion accounting fraud that toppled the company he built from a tiny telecommunications firm to an industry giant. Another CEO, Dennis Kozlowski of Tyco International Ltd., received a sentence of eight and one-third to 25 years in prison in another fraud case.
Skilling's co-defendant, Enron founder Kenneth Lay, died from heart disease on July 5. Lay's convictions on 10 counts of fraud, conspiracy and lying to banks in two separate cases were wiped out with his death.