HONOLULU - A strong earthquake shook Hawaii early Sunday, jolting residents out of bed and causing a landslide that blocked a major highway. Ceilings crashed at a hospital, and aftershocks kept the state on edge.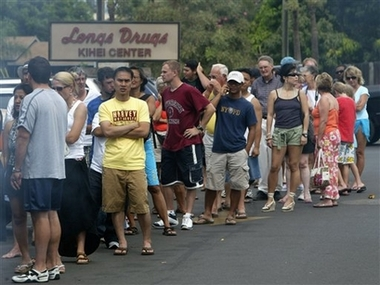 People wait in line for food at a roadside chicken stand in Kihei, Hawaii, Sunday, Oct. 15, 2006, after an earthquake struck the big island of Hawaii knocking out power and forcing restaurants and other merchants to close. [AP]
The state Civil Defense had unconfirmed reports of injuries, but communication problems prevented more definite reports. Gov. Linda Lingle issued a disaster declaration for the entire state, saying there had been damage to buildings and roads. There were no reports of fatalities.
The quake hit at 7:07 a.m. local time, 10 miles north-northwest of Kailua Kona, a town on the west coast of Hawaii Island, also known as the Big Island, said Don Blakeman, a geophysicist at the National Earthquake Information Center, part of the

U.S. Geological Survey.
Blakeman said there was no risk of a Pacific-wide tsunami, but there was a possibility of significant wave activity in Hawaii.
The Pacific

Tsunami Center reported a preliminary magnitude of 6.5, while the U.S. Geological Survey gave a preliminary magnitude of 6.6. The earthquake was followed by several strong aftershocks, including one measuring a magnitude of 5.8, the Geological Survey said.
"We were rocking and rolling," said Anne LaVasseur, who was on the second floor of a two-story, wood-framed house on the east side of the Big Island when the temblor struck. "I was pretty scared. We were swaying back and forth, like King Kong's pushing your house back and forth."
Water pipes exploded at Aston Kona By The Sea, an 86-unit condominium resort, creating a dramatic waterfall down the front of the hotel from the fourth floor, said Kenneth Piper, who runs the front desk.
"We are a concrete building, but we really shook. You could almost see the cars bouncing up and down in the parking garage," he said.
The quake caused widespread power outages, and phone communication was possible, but difficult. By mid-day Sunday, power was restored to Hilo on the Big Island and was starting to be restored to Maui, said Chuck Anthony, a spokesman for the Hawaii National Guard. Officials did not have a firm estimate of how many people were without power.
Lingle told radio station KSSK that she toured the Kona area by helicopter to view the damage, including earth falling into Kealakekua Bay.
"You could see the water was turning brown," said Lingle.

Federal Emergency Management Agency officials based in Hawaii were set to begin evaluating damage Sunday afternoon, officials said. On Hawaii Island, there was some damage in Kailua-Kona and a landslide along a major highway, said Gerard Fryer, a geophysicist at the Pacific Tsunami Center. Officials also said there were reports of people trapped in elevators in Oahu.
In Waikiki, one of the state's primary tourism areas, worried visitors began lining up outside convenience stores to purchase food, water and other supplies. Managers were letting tourists into the darkened stores one at a time.
Karie and Bryan Croes were waited an hour to buy bottles of water, chips and bread. "It's quite a honeymoon story," said Karie as she and her husband sat in lounge chairs surrounded by their grocery bags beside a pool at ResortQuest Waikiki Beach Hotel.
Kona Community Hospital on the western side of Big Island was being evacuated after ceilings collapsed and power was cut off, according to a hospital spokeswoman.
At least 10 acute care patients were being evacuated across the island to a medical center in Hilo, said Terry Lewis, spokeswoman for the hospital. About 30 nursing care patients were being moved temporarily to a nearby conference center, she said.
"We were very lucky that no one got hurt," said Lewis.
Power was back up in the hospital, and its emergency room was accepting patients, hospital officials said. One operating room that sustained minimal damage was available for use if necessary.
The quake affected travel plans for many visitors, though the state was in its low period of the tourism season. Airports were functioning despite the power outages, though travel was difficult and some flights were being canceled, officials said.

Federal Aviation Administration spokesman Les Dorr said planes were arriving at Honolulu International Airport, but there were few departures. Dorr said the Transportation Security Administration security checkpoints were without power, so screeners were screening passengers and baggage manually.
Resorts in Kona were being asked to keep people close to hotels, Big Island Mayor Harry Kim told television station KITV. Cruise ships were asked to keep tourists on board, and ships that were due to dock with tourists were asked to move on to their next location, he said.
"We are dealing with a lot of scared people," he said.
Hotels throughout the islands reported scattered injuries and disruptions. Many hotel managers broadcast warnings over public-address systems that echoed through corridors.
Earthquakes in the 6.0 magnitude range are rare in the region, though they have happened before. The region more commonly sees temblors in the 3- and 4-magnitude range caused by volcanic activity.
"We think this is a buildup from many volcanic earthquakes that they've had on the island," Waverly Person, a geophysicist with the U.S. Geological Survey's National Earthquake Information Center.
The last Hawaiian earthquake this strong struck more than 20 years ago. The magnitude 6.7 caused heavy property damage on Hawaii Island and collapsed trails into a volcano in Hawaiian Volcanoes National Park on Nov. 16, 1983. A 6.1-magnitude quake also hit in 1989, according to the Earthquake Information Center.
The largest recorded Hawaiian earthquake struck the Ka'u District on Hawaii Island in 1868, causing 77 deaths. Its magnitude was estimated at 7.9.
A 9.5-magnitude earthquake, the largest in the world, struck Chile on May 22, 1960, and a tsunami traveled to Hawaii where 61 people died.