SAN FRANCISCO - A powerful earthquake and repeated aftershocks rattled Hawaii on Sunday, knocking out power and unnerving residents and vacationers but causing no injuries or extensive structural damage, agencies reported.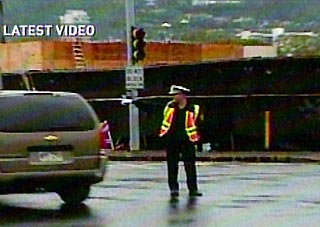 A police officer directs traffic at an intersection with darkened traffic lights in Honolulu in this October 15, 2006 video grab. [Reuters]

The 6.6 magnitude earthquake struck off the west coast of Hawaii on Sunday morning, with shaking and power outages felt as far as 150 miles away on the island of Oahu, but no tsunami warnings were in effect.

The U.S. Geological Survey considers an earthquake of 6.6 magnitude to be strong. The agency initially recorded the earthquake as a 6.3 magnitude temblor.

There were no immediate reports of injuries, but there were scattered reports of damage and power outages were widespread.

"It was the biggest earthquake we've been through. It was pretty serious and we've lived in Tokyo for 11 years," said Arthur Roberts, who lives 15 miles north of Hilo on Hawaii. "We heard that Kona community hospital suffered structural damage and is moving patients to another site."

The Honolulu Advertiser reported on its Web site that Honolulu International Airport was closed, there were landslides in Hamakua and Kealakekua and major damage at Kona Hospital, the Honokaa Long-term Care Facility and the Royal Kona Resort.

The earthquake was not strong enough to trigger a tsunami warning, according to the Pacific

Tsunami Warning Center.

"There is no tsunami warning in place," said Victor Sardina, a geophysicist at the center on Oahu.

"We had a power supply outage and we're running on power backup," Sardina said by telephone. "This whole area was shaken up. It was pretty strong shaking."

Honolulu resident Carol Chesney said the earthquake woke the city. "The whole house really rattled," she told Reuters by telephone.

Stuart Koyanagi, another geophysicist at the tsunami warning center, said the 6.6 magnitude earthquake was followed seven minutes later by a 5.8 magnitude temblor and by several smaller quakes. Seismologists warned of aftershocks through Monday.

Michael Poland, a geophysicist with the U.S. Geological Survey's Hawaiian Volcano Observatory, said the earthquake was likely the largest to hit Hawaii since 1989, and possibly the largest since an even larger one measuring 7.2 hit in 1975. Those earthquakes struck less developed areas, Poland said.