The UN General Assembly formally elected South Korean Foreign Minister Ban Ki-Moon as the world body's eighth secretary general, to succeed Kofi Annan when he steps down in December.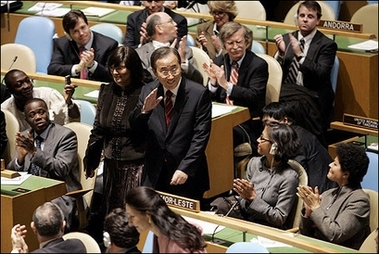 South Korean Foreign Minister Ban Ki-Moon(C) is escorted through the United Nations General Assembly after his nomination as Secretary General was confirmed at UN headquarters in New York. [AFP]


Ban, a 62-year-old career diplomat, will become the first Asian UN chief since U Thant of Burma led the world body from 1961 to 1971.

The 192-member assembly's vote was a mere formality after the powerful 15-member UN Security Council recommended Ban as Annan's successor on Monday, an event overshadowed by North Korea's declared nuclear test.

Ban was the only remaining candidate in the race for the coveted, high-profile job after six other contenders withdrew.

The General Assembly unanimously adopted a resolution appointing Ban and congratulated the South Korean diplomat on his appointment.

The secretary-general designate will not take the oath of office until sometime in December, the assembly spokesman said.

Annan congratulated his successor, hailing him as "a man with a truly global mind" with "exceptional qualifications.

And he repeated the greeting made more than 50 years ago by the first UN secretary general, Norway's Trygve Lie, to his Swedish successor, Dag Hammarskjold: "You are about to take over the most impossible job on Earth."

"While that may be true, I would add: this is also the best possible job on Earth," Annan said.

Ban's election coincides with a major international crisis over North Korea's nuclear program.

Ban, a mild-mannered career diplomat, has played key roles both as South Korea's foreign minister -- and earlier as Seoul's ambassador to the United Nations -- in trying to resolve the long-standing North Korean nuclear crisis.

Ban somberly welcomed his nomination Monday just after Pyongyang announced it had conducted an underground atomic bomb test.

"This should be a moment of joy. But instead, I stand here with a very heavy heart," he said.

Ban's election comes as the Security Council is set to vote on a package of wide-ranging sanctions against Pyongyang Saturday.

Ban rose to prominence talking tough on North Korean issues. With 33 months in office, he is one of South Korea's longer-serving foreign ministers -- surviving the sometimes turbulent diplomacy on the divided Korean peninsula.

He became a diplomat in 1970 after graduating from the prestigious Seoul National University and doing postgraduate studies at Harvard University's Kennedy School of Government.

Ban had a stint as first secretary at South Korea's UN mission from 1978 to 1980 and was director of the foreign ministry's UN division until 1983.

He served as South Korea's chief envoy to the United Nations for two years from 2001, and also led the cabinet of the president of the 56th UN General Assembly.

In the past year Ban has been deeply involved in six-nation talks -- China, Japan, the two Koreas, Russia and the United States -- aimed at persuading the North to give up its nuclear weapons.

Ban will take up his post next January after Annan, a 68-year-old Ghanaian, steps down on December 31 after completing two five-year terms.

Once in office, he said he will push through long-delayed reforms to make the world body leaner and more effective so that it can "promise less and deliver more."

Ban came to lead the shortlist for the post after most UN member states agreed that it is an Asian's turn to lead the world body in line with an unwritten rule of geographic rotation.

Other contenders for the job were Indian diplomat Shashi Tharoor, the UN undersecretary general for communications and public information; Latvian President Vaira Vike-Freiberga; former Thai deputy prime minister Surakiart Sathirathai; Jordan's UN ambassador Prince Zeid al-Hussein; Sri Lankan diplomat Jayantha Dhanapala; and Afghanistan's former finance minister Ashraf Ghani.