BAGHDAD, Iraq - Suspected Shiite militiamen, some dressed as police, broke into a television station and gunned down 11 Iraqi executives, producers and other staffers Thursday, the deadliest attack against the media in this country, where at least 81 other journalists have been killed in the past three years.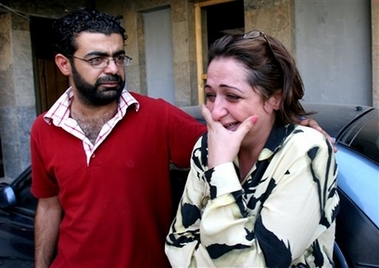 A Sunni-Arab Shaabiya satellite television station employee comforts his colleague in front of the station's building in Baghdad, Thursday Oct. 12, 2006. An unknown number of gunmen pulled up at the station in seven cars, stormed quickly into the offices and opened fire killing eleven station's employees. [AP]
The station, Shaabiya, was new and had not started full broadcasting. So far it had aired only test programming of nationalist songs, including ones against the U.S. military presence in Iraq. That may have led Shiite militiamen to suspect it of a pro-Sunni ideology.
The brazen, morning attack underlined the danger for the media in a country where causing offense to one side or another can be a death sentence - either by Sunni insurgents or the Shiite and Sunni death squads behind sectarian violence.
In another attack on Iraqi media, the body of a Kurdish radio reporter was identified at the Baghdad morgue. Azad Mohammed Hussein, 29, was kidnapped in the capital Oct. 3 while on his way to Dar al-Salam radio headquarters. His body was found Tuesday.
At least 51 journalists - mostly Iraqis have been kidnapped in Iraq, according to Reporters Without Borders, a Paris-based journalist watchdog group. The latest was the editor of weekly magazine Nabd al-Shabab, abducted Monday on the way to work.
About two dozen gunmen, some in police uniform, pulled up to the Shaabiya offices at 7 a.m. Thursday in civilian cars, stormed into the building and killed most of those inside, said the station's executive director, Hassan Kamil, who was not there at the time.
Staff members had been working around the clock to get the station ready to begin broadcasting at the end of the Islamic holy month of Ramadan, in mid-October. As a result, many people were in the office, some still sleeping at the time of the attack.
The gunmen fired some 100 shots, Kamil said. But survivors reported not hearing any shots and no windows were damaged, suggesting the attackers may have used silenced pistols and killed their victims at close range, he said.
After the attack, blood stained the polished floors of the station building, which housed Shaabiya's studio and offices, and pistol bullet casings lay scattered around.
Among the dead were the station's chairman of the board, Abdul-Raheem Nasrallah, along with station technicians and two guards, Kamil said. Several employees managed to run away, and there were two wounded survivors - the program director and chief producer, who were in critical condition.
Kamil said he could not speculate on who was behind the attack and said the station had received no threats. He insisted the station had no sectarian bent and pointed out that the staff was a mixture of Shiites, Sunnis and Kurds. Nasrallah, the slain chairman, was a Shiite - a former military officer who was jailed during Saddam Hussein's rule, fled to Norway after his release and then returned after Saddam's fall.
"We have good relations with all political and religious parties and groups, with the Sunnis and the Shiites, and we are keen to maintain such a balance," Kamil said in a telephone interview.
But there were signs Shiite militiamen were behind the assault. Many kidnap-slaying of Sunnis have been carried out by gunmen in police uniforms and Sunnis accuse the mainly Shiite police force of helping the death squads.
The test programming the station has done so far has included nationalist songs, some of them denouncing "the American occupation" - a cause of the Sunni insurgents, though also of some Shiite militia groups.
There were also rumors that the station was being financed by Libya. Reporters Without Borders said the militiamen may have been seeking to avenge the kidnapping of a revered Lebanese Shiite cleric, Imam Musa al-Sadr, 28 years ago, an attack often blamed on Libya. Al-Sadr is a distant uncle of Muqtada al-Sadr, head of the Mahdi Army, Iraq's most feared militia.
Kamil denied his station receives Libyan funding, saying it is still struggling to get the money to start up. But even a false rumor could be a motive for an attack.
Interior Ministry spokesman Brig. Abdel-Karim Khalaf blamed the slayings on "a gang of criminals" and said investigations were under way.
At least 81 journalists, 60 of them Iraqi, have been killed in Iraq since the March 2003 U.S. invasion of Iraq, according to an Associated Press tally based on figures provided by the Committee to Protect Journalists, a New York-based media rights group. That surpasses the 66 killed in Vietnam, and the 68 killed during World War II.
In addition, 28 employees of media outlets have been killed, including drivers, interpreters and guards - almost all of them Iraqis. The numbers do not include the Shaabiya attack, since it was not immediately known how many of the dead were journalists or support staff.
"Iraq is the most dangerous assignment in the world right now for journalists," said Joel Campagna, head of CPJ's Mideast desk. "There really aren't any battle lines. The danger begins right outside your door."
Not only are there no front lines in Iraq, but Western journalists are targeted by insurgents who consider them as little different from combatants. Baghdad's Palestine hotel, where many media organizations, including the AP were based for extended periods of time, was attacked repeatedly; the attacks included a triple suicide vehicle assault last October that was claimed by al-Qaida in Iraq.
In one of the most graphic examples, an Iraqi television journalist, Atwar Bahjat, and two of her colleagues were abducted and slain while reporting on an explosion last February at a mosque in Samarra.
"The toll of journalists killed mounts from day to day," Reporters Without Borders said. "We are also alarmed by the number of kidnappings of journalists. Each week we learn of another journalist who has been abducted and then executed. ... Local journalists are the chief victims."
The deaths come amid a wave of violence in Iraq by both insurgents and militias. At least 34 Iraqis were killed in violence around the country Thursday, including the attack on Shaabiya.
The U.S. command announced that one American soldier was killed and two others injured in action in northern Iraq on Wednesday. The soldier's death brings the total number of American troops who have died in October in Iraq to 41.