NEW YORK - At least two people were killed when a small plane owned by a member of the New York Yankees baseball team crashed into a 52-story building on Manhattan's Upper East Side on Wednesday.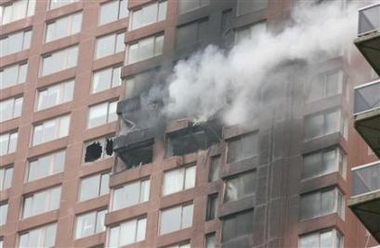 Smoke billows out of the windows of a high-rise building after a small aircraft crashed into it in New York, October 11, 2006. [Reuters]


Police and other U.S. officials said they had no reason to believe the crash was related to terrorism but the military, mindful of the nightmare of September 11, scrambled fighter jets to patrol the skies over several cities as a precaution.

"They are airborne now as a prudent measure," said Kyle Combs, a spokeswoman for the North American Aerospace Defense Command. She did not say which cities were being patrolled, or how many.

The four-seat plane, identified by Federal Aviation Administration records as a Cirrus SR 20, was owned by Yankees baseball pitcher Cory Lidle, the FAA said. CNN said Lidle, 34, was piloting the plane and was believed to have been killed.

Lidle has a wife and young son, the team's Web site said.

The aircraft crashed at East 72nd St. and York Avenue, near the East River, into a 1980s building housing mainly upscale residential apartments but which also has a specialized hospital on the lower floors.

MEMORIES OF SEPT. 11

Luis Gonzales, 23, was working in the building remodeling a nearby apartment and saw the crash.

"I was looking out the window and I saw the plane coming so close to us and it swerved to try and avoid the building but it hit the building," he said. "It was a small plane. We went knocking on doors to try and see if people needed to get out, but we did not get any answers."

"I am still shaking," he said.

Smoke and flames poured from the upper floors of the high-rise building and more than 100 firefighters were dispatched to the scene, reviving memories of the September 11 attacks.

"It's really bad. Flames are shooting from the building. I was on my terrace and I saw it," said witness Tressa Octave, who lives two blocks away.

New York police said the crash killed two people and possibly more and the Department of Homeland Security said there was no indication of terrorism.

"There's no specific or credible intelligence suggesting an imminent threat to the homeland at this time," spokeswoman Joanna Gonzalez said.

The plane took off from Teterboro Airport in New Jersey, just miles from Manhattan, a Port Authority of New York and New Jersey spokesman said. He did not know how many people were on board.

The plane was flying by visual flight rules, meaning the pilot does not have to be in contact with air traffic controllers.

White House spokesman Tony Fratto said President George W. Bush was aware of the crash and "we're gathering facts" about it.

The FAA said it imposed temporary flight restrictions in the area following the crash and caused some departure delays at New York's domestic LaGuardia airport.