GAZA CITY, Gaza Strip - Qatar's attempt to end a growing crisis in the Palestinian territories appeared to end in failure Tuesday after Hamas rejected the plan's key demands that it recognize Israel and renounce violence.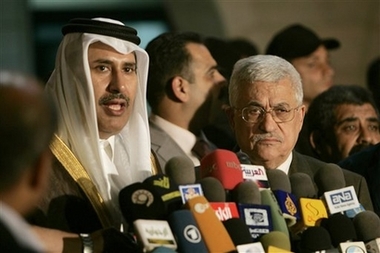 Qatar's Foreign Minister Sheikh Hamad bin Jassim bin Jabr al-Thani, left, and Palestinian Authority President Mahmoud Abbas, also known as Abu Mazen, talk to the media after their meeting at Abbas's office in Gaza City, early Tuesday Oct. 10, 2006. Sheik Hamad bin Jassem al Thani began meetings late Monday with Palestinian leaders, hoping to promote a unity government that would lead to the restoration of vital Western aid to the West Bank and Gaza. The visiting mediator also met with Prime Minister Ismail Haniyeh of Hamas. [AP]
Fatah faulted Hamas for the breakdown in negotiations, the latest setback to international efforts to establish a unity government and restore much-needed aid to the Palestinians.
However, Palestinian Information Minister Youssef Rizka of Hamas said the U.S. was to blame for dismissing a separate Palestinian plan that would establish a Palestinian state in the West Bank but not explicitly recognize Israel. The document has been a basis for Hamas-Fatah talks.
Qatar's foreign minister presented his country's six-point plan Monday in separate meetings with President Mahmoud Abbas of Fatah and Prime Minister Ismail Haniyeh of Hamas. The foreign minister, Sheik Hamad bin Jassem al Thani, said afterward there was still no agreement on the issue of recognizing Israel. He left the Palestinian territories early Tuesday.
Ghazi Hamad, spokesman for the Hamas-led government, said his group was not ready to recognize Israel or give up its armed struggle against Israel.
"We differentiate between resistance and terrorism," he said.
Still, he said, Hamas is ready to continue the negotiations: "The way is not blocked."
Mohammed Nazal, a member of Hamas' exiled Syria-based leadership, said later that Hamas only asked for amendments to the Qatari proposal, but did not reject it outright.
Nazal accused Abbas of waging "a war of elimination" on Hamas, which holds top positions in the Palestinian government and a majority in parliament.
"They are not after moderating us - it is about wiping us out. It is a war of elimination," Nazal told The Associated Press. He spoke by telephone from another Arab country, but would not specify where.
Israel kept up its pressure on militants overnight, with an airstrike on the Gaza home of a Hamas legislator, Mariam Frahat. Palestinian security officials said the house was unoccupied at the time of the attack, in the early hours of Wednesday, and no casualties were reported.
The army said aircraft hit an uninhabited building in which arms were stored.
On Tuesday night, an Israeli aircraft fired a missile at a vehicle near the Nusseirat refugee camp in central Gaza, Palestinians said, wounding a gunman. The military said only that it struck at a militant.
Earlier Tuesday Israeli forces shot and killed an armed Palestinian near the border fence in Gaza, the military and Palestinians said.
Israel and Western donor nations cut off hundreds of millions of dollars to the Palestinian Authority after Hamas won parliamentary elections in January and formed a new government.
The international community wants Hamas to renounce violence, recognize Israel and accept past peace agreements. Hamas refuses to accept the conditions, despite widespread economic hardship caused by the international sanctions.
An Israeli military offensive in Gaza, launched after Hamas-linked militants tunneled under the border and captured an Israeli soldier in June, has added to the misery. The soldier remains in captivity.
Abbas, a moderate, has been pushing Hamas to form a coalition government, based on the international demands, as a way out of the crisis. Negotiations have been going on for weeks, but without results. The rising tensions led to infighting that killed 12 people last week.
Nabil Amr, a top aide to Abbas in the West Bank, praised the efforts of Qatar and accused Hamas of stalling. "We regret the failure of this initiative," he said. "They are buying time and time is of the essence for us."
Amr said the president is weighing other options for resolving the standoff, including replacing the Hamas-dominated Cabinet with a government of apolitical technocrats or taking steps to hold early elections.
"I don't think there is room for any more international initiatives," he said.
Qatar had emerged as a possible mediator in the standoff between Israel and Hamas. The tiny Gulf state has low-level relations with Israel and good relations with Hamas' exiled leadership in Syria.
Meanwhile, Hamas claimed it had fired a homemade rocket at Israeli troops in northern Gaza. The army said militants fired an anti-tank missile at troops, causing no injury or damage.
"Resistance is the only way to deter (Israel's) aggression," Hamas said in a statement. "Seeking flexibility, dialogue and negotiations will not do any good."