SINGAPORE - Oil prices rose Monday in Asian trading following reports the Organization of Petroleum Exporting Countries was set to trim its daily production of crude by 1 million barrels.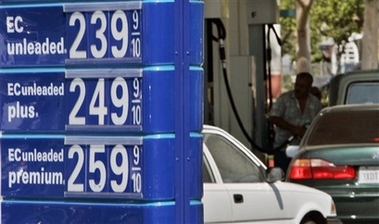 Business is brisk at an Arco gas station offering self-serve unleaded regular for $2.399 per gallon in Santa Fe Springs, Calif., Friday, Oct. 6, 2006. Oil prices fell below $60 a barrel Friday as the market grew skeptical of reports that OPEC planned immediate cuts to production. [AP]
The market was awaiting a possible formal decision on Monday by OPEC states about its output policy. Over the weekend, reports quoted OPEC officials as saying the 11-member cartel would reduce its output by about 4 percent to stem a 24 percent decline in prices since mid-July.
Oil prices have been range-bound in the past week as traders weighed tough rhetoric from some OPEC members calling for output cuts against that of Saudi Arabia, a representative of whom has denied there was a deal to reduce production.
Still, recent posturing "may be enough to discourage aggressive near-term selling," noted Mike Fitzpatrick at Fimat USA.
Light, sweet crude for November delivery rose 64 cents to US$60.40 a barrel in electronic trading on the New York Mercantile Exchange. The contract on Friday dropped 27 cents to settle at US$59.76 a barrel.
Heating oil futures gained 1.35 cents to US$1.7075 a gallon (3.8 liters) while gasoline prices added 1.03 cents to US$1.5145 a gallon. Natural gas futures rose 14.8 cents to US$6.575 per 1,000 cubic feet.
Reports have said a majority of OPEC states back a voluntary reduction, and the deal could be ratified as early as mid-December at a meeting in the Nigerian capital of Abuja. Some agencies reported the cartel would decide by Monday whether to cut its production.
The reports came about a week after OPEC members Nigeria and Venezuela voluntarily began reducing their oil production by a combined 170,000 barrels per day. Official figures released in August put total OPEC production at just under 30 million barrels a day.
Analysts said the longer-term view is that the Organization of Petroleum Exporting Countries would likely act before the end of the year to trim its output as global inventories rise and economic growth slows.
Meanwhile, the current rise in oil prices was not only because of concern about a possible decline in supply amid robust demand, but also a reflection of a strong global economy, analysts said.
"The market's been toying for a while with whether OPEC will or will not cut production," said Joseph Capurso, an analyst with Commonwealth Bank of Australia in Sydney. "But whether or not it happens, the world economy is strong, so that will put a floor under prices — there isn't a concern that U.S. oil consumption is going to fall into a hole."