TEHRAN, Iran - Iran called the threat of international sanctions over its disputed nuclear program a "rusty" weapon and repeated Sunday that it would not abandon uranium enrichment.
The six countries at the center of efforts to persuade Iran to drop uranium enrichment - a key step toward making nuclear weapons said Friday they have agreed to pursue possible sanctions.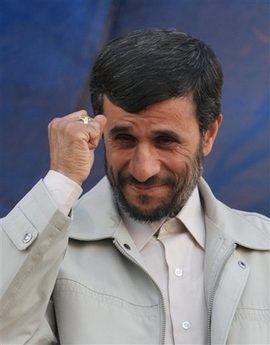 Iranian President Mahmoud Ahmadinejad clenches his fist during a public gathering in the city of Karaj, 21 miles (35 kilometers) west of the capital Tehran, Iran, Thursday, Sept. 28, 2006. A top European Union negotiator said Wednesday, Oct. 4, 2006 that 'endless hours' of talks with Iran about its nuclear program have failed to make any progress, while the Iranian president said U.N. sanctions would not stop Tehran from enriching uranium. [AP]
However, all five permanent security council members - the U.S., France, Britain, Russia and China along with Germany stopped short of demanding Iran be punished by the U.N. Security Council.
"Both officials and people in Iran have always viewed threats of sanctions as a rusty and derelict weapon," Foreign Ministry spokesman Mohammad Ali Hosseini said at a weekly news briefing. "They are accustomed to the threats."
However, Hosseini said Iran does not "welcome sanctions" and that they would damage both Iran and the countries that impose them.
Although he reiterated Iran's determination to continue enriching uranium, Hosseini said "negotiation is the best way."
He said Iran will resume negotiations with European nations, talks that are seen as a final attempt to avoid a full-blown confrontation between Tehran and the Security Council. Hosseini did not offer specifics on the talks, such as when they might begin.
In September, European Union envoy Javier Solana and Iranian envoy Ali Larijani ended two days of talks in Berlin with no agreement on the enrichment issue. They insisted, however, that they had made progress on ways to open broader discussions.
Those talks came after Iran ignored an Aug. 31 deadline to suspend uranium enrichment or face punishment.
President Mahmoud Ahmadinejad on Sunday told a cabinet meeting: "Some bullying powers, applying intimidation and threats, intend to confront Iran's nuclear rights but our nation has strongly and smartly resisted," according to state television.