BANGKOK, Thailand - Thailand's military rulers unveiled a post-coup Cabinet on Monday, with top jobs given to economists, high-profile civil servants and two retired military officers who are expected to govern until elections in October 2007.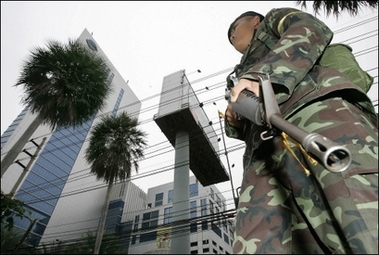 A Thai soldier stands guard in front of Shinawatra tower in Bangkok. Thailand's army-installed premier has unveiled a first post-coup government with few roles given to the military and the respected central bank governor named as finance minister.[AFP]
The interim government, which was announced in an overnight televised broadcast while most Thais slept, was due to be sworn in by King Bhumibol Adulyadej later Monday, said government spokesman Yongyuth Maiyalarb.
Prime Minister Surayud Chulanont, who was appointed by the military after the September 19 coup that ousted former premier Thaksin Shinawatra, will lead his Cabinet at the ceremony, and then the team can begin its official work "right away," said Yongyuth.
The Cabinet includes 28 portfolios, with two ministers holding two posts.
Surayud, a former army commander, selected Thailand's central bank chief, Pridiyathorn Devakula, to serve as finance minister and hold the portfolio of deputy prime minister for economic matters.
Pridiyathorn, a highly regarded economist with an MBA from the Wharton School of Business at the University of Pennsylvania, helped steer Thailand's economy out of the devastating Asian financial crisis. His selection was an apparent effort to ease investors rattled by the coup.
Western nations and human rights groups have called the coup a setback to democracy, and have expressed disapproval of restrictions imposed by the military, including curbs on press freedoms and limits on public gatherings and political assembly.
Surayud's choice for foreign minister, Nitya Pibulsongkram, will be particularly familiar to the United States, among the most vocal critics of the coup.
Nitya served as an ambassador to the United States and the United Nations and was Thailand's chief negotiator for a Thai-U.S. free trade agreement that stalled during the country's political turmoil.
Retired army general Bunrod Somtad, a longtime friend of Surayud, was named defense minister. The two went to military school together and Bunrod rose to become chairman of the Joint Chiefs of Staff. Both served in the special warfare unit of the army.
Another retired officer, Thira Haocharoen, a former navy admiral was given the transport minister's portfolio.
Other key positions went to the executive chairman of Bangkok Bank, Kosit Panpiemras, who was named industry minister and one of two deputy prime ministers. The portfolio of commerce minister was given to Krirkkrai Jirapaet, a former permanent secretary at the ministry.
According to the road map set out by the coup makers, Surayud's government will rule for about a year, until the new constitution is written and elections can be held.
The military council that led the coup installed Surayud as prime minister on October 1, and he pledged to have his government in place in about a week. He appeared intent on keeping his promise to quiet mounting criticism of the coup from the international community.
The military ousted Thaksin while he was on an official trip to attend the United Nations General Assembly in New York. Last week, in a letter sent from London, he resigned as leader of the ruling Thai Rak Thai party, which he founded, funded and led to three election victories.