BEIJING - China joined Japan in sending a strong message Sunday that a nuclear test by the North "cannot be tolerated," and Pyongyang appeared to back down from its threat as an important anniversary passed without any sign of nuclear activity.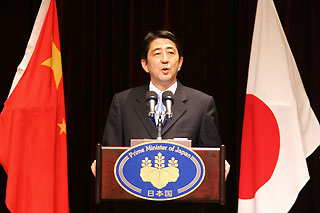 New Japanese Prime Minister Shinzo Abe holds a news conference in Beijing October 8, 2006. [Reuters]
The estranged neighbors, holding their first summit in five years, put aside their differences over visits by the Japanese prime minister's predecessor to a Tokyo war shrine to issue a joint warning to North Korea.
"We agreed that a nuclear weapon test by North Korea cannot be tolerated," Japanese Prime Minister Shinzo Abe - who assumed office just two weeks ago - said at a news conference after a day of meetings with President Hu Jintao and other Chinese leaders. "We need to prevent a nuclear North Korea."
The common ground Japan and China found over North Korea came as a South Korean politician said a North Korean nuclear test was not imminent and the North was ready to drop its plans if Washington engaged in direct talks.
The United States has refused to meet with North Korea outside of stalled negotiations by the Koreas, the United States, Japan, China and Russia. Washington has said it would have bilateral talks with North Korea only in the context of those six-party talks.
"President Bush and administration officials have made our position on bilateral talks clear," said Emily Lawrimore, a White House spokeswoman. "We will continue to encourage North Korea to participate in six-party talks."
Abe said China was determined to bring North Koera back into the talks aimed at getting it to abandon development of nuclear weapons and the long-range missiles it needs to use them.
"We saw eye-to-eye," Abe said. "I think that was very significant."
North Korea announced last week that it would conduct a nuclear weapons test. Though North Korea has long claimed to have nuclear weapons, the test would be the first incontestable proof of its capabilities.
Analysts had speculated that North Korea might test as early as Sunday because it often uses anniversaries or other international events.
Sunday was the ninth anniversary of North Korean leader Kim Jong Il's appointment as head of the Korean Workers' Party. Tuesday will be the 61st anniversary of the party's founding.
And South Korean Foreign Minister Ban Ki-moon was expected to be nominated by the U.N. Security Council to be the world body's next secretary-general on Monday.
But there were signs the North was using the threat as a bargaining chip.
Former South Korean lawmaker Jang Sung-min said Sunday in Seoul that North Korea informed China it may desist from testing if the United States holds bilateral talks - a long-standing demand of North Korea.
Jang said he got the information from a telephone conversation with a Chinese diplomat whom he did not further identify.