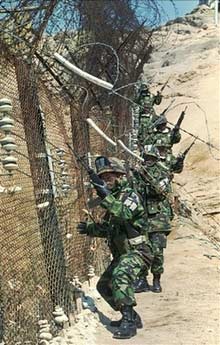 South Korean soldiers move along the barbed-wire fence as they patrol the border line in the demilitarized zone between the two Koreas at Panmunjom, north of Seoul, in this April 8, 1996, file photo. South Korean troops fired warning shots Saturday October 7, 2006, after five North Korean soldiers crossed a boundary in the Demilitarized Zone separating the two countries, South Korean military officials said. [AP Photo]
Tensions have mounted over North Korea's intention to test its first atomic bomb, with shots ringing out Saturday along the border with South Korea and Japan warning of harsh sanctions if Pyongyang goes nuclear, the Associated Press reported. (
Full Coverage on North Korea's Nuclear Crisis
) 
With a possible test expected soon, the UN Security Council issued a statement Friday urging North Korea to abandon its nuclear ambitions and warning of unspecified consequences if it does not comply.
Jittery nations have warned a test would unravel regional security and possibly trigger an arms race in the region.
A midday incursion Saturday by North Korean troops into the southern side of the no-man's-land separating North and South Korea only stoked the unease. South Korean soldiers rattled off 40 warning shots at the five troops who crossed the center line of the Demilitarized Zone.
It was unclear whether the North Korean advance was intended as a provocation, or was an attempt to go fishing at a nearby stream, an official at South Korea's Joint Chiefs of Staff said on condition of anonymity, citing official policy. No one was hurt in the event.
Meanwhile, world powers were stepping up diplomatic efforts to avert a nuclear test. Japanese Prime Minister Shinzo Abe left for Beijing Sunday for talks with Chinese leaders and will then go on to Seoul for talks with South Korean President Roh Moo-hyun on Monday.
"North Korea must stop its nuclear tests," Abe demanded as he was leaving for his summits. "I will discuss the situation with leaders of both countries to achieve that goal." "I want to hold summits to clear the sky for the future of our countries," Abe added.
U.S. State Department spokesman Kurtis Cooper said Saturday the United States was concerned about North Korea's threat to test its first atomic bomb and the department was closely monitoring the high tensions.
lihong(李红) 16:06:46
Japan's Foreign Ministry said it was prepared to push for punitive measures at the United Nations if North Korea goes ahead with the test.
"If North Korea conducts a nuclear weapons test despite the concerns expressed by international society, the Security Council must adopt a resolution outlining severely punitive measures," the Japan foreign ministry said.
A top Japanese ruling party official warned of further sanctions if North Korea conducts a nuclear test. Tokyo began stepping up trade restrictions on North Korea in July after it test-fired seven missiles, including a long-range rocket, into the waters between Japan and the Korean Peninsula.
"We have already imposed financial measures ... but we may have to go further, like stopping imports and exports" if it conducts a nuclear test, Shoichi Nakagawa, the Liberal Democratic Party's policy chief, said on public broadcaster NHK.
The U.N. statement adopted Friday expressed "deep concern" over North Korea's announcement Tuesday that it is planning a test.
The council acted amid speculation that a nuclear test could come on Sunday, the anniversary of North Korean top leader Kim Jong Il's appointment as head of the Korean Workers' Party in 1997.
Japanese Vice Foreign Minister Shotaro Yachi told Japan's TV Asahi: "Based on the development so far, it would be best to view that a test is possible this weekend."
The U.N. statement also urged North Korea to return to six-nation negotiations aimed at persuading it to abandon its nuclear ambitions in exchange for security guarantees and economic aid.
Those talks, which involve the United States, China, Japan, Russia and North and South Korea, have been stalled since late last year, when North Korea boycotted the negotiations in response to American economic sanctions.

A North Korea expert in China said only the removal of the sanctions could dissuade the country from testing.
"North Korea has already made a decision to carry out a test," said Li Dunqiu of China's State Council Development Research Center. But "if the U.S. removes sanctions ... then tensions can be eased. Otherwise launching a nuclear test is unavoidable for North Korea."