SEOUL (Reuters) - South Korea fired warning shots on Saturday after North Korean soldiers briefly crossed into its side of their heavily defended border, adding to mounting tension after Pyongyang said this week it planned a nuclear test.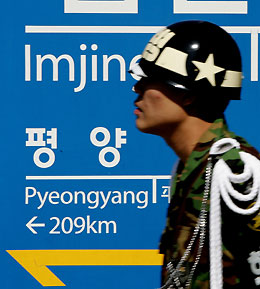 A South Korean military police walks past a signboard showing the distance to North Korean capital Pyongyang from Imjingang Station, of the incomplete inter-Korea railway, near the demilitarized zone which separates the two Koreas, about 55 km (34 miles) north of Seoul, October 6, 2006.
The skirmish follows demands by the UN Security Council the previous day for the North not to carry out the test and warning of unspecified consequences if it did.
"Our troops fired warning shots at the five North Korean soldiers after they climbed over the military demarcation line despite several loudspeaker warnings," South Korea's Joint Chiefs of Staff said in a statement.
It said they went about 30 metres (yards) across the line within the demilitarized zone (DMZ), the last frontier of the Cold War. The North Korean soldiers did not return fire and none was reported injured in the incident.
"It seems the North intended to raise tensions after their announcement on October 3 of a plan to conduct a nuclear test," Yonhap news agency quoted a South Korean military source as saying.
In late May, two North Koreans crossed the military line but also retreated after South Korean guards fired warning shots.
North Korea stations most of its 1.2-million-strong army near the DMZ, a 4-km (2.5-mile) strip that has divided the two since the end of the 1950-53 Korean War for which a formal peace treaty has never been agreed.
South Korea stations a large part of its nearly 700,000 troops near the border, backed by around 30,000 U.S. troops.
North Korea announced the planned test last Wednesday, saying it had no choice in the face of what it said was a U.S. threat of nuclear war and economic sanctions.
There has been speculation the state might detonate a device this weekend, and a Chinese source said Pyongyang planned to carry out the test deep inside an abandoned mine.
A nuclear test would "jeopardize peace, stability and security in the region and beyond" and "bring universal condemnation by the international community," said the Security Council statement.
North Korea is thought to have the material to make a nuclear bomb but not the technology to make one small enough to mount on a missile.
Japan and the United States had wanted a stronger statement threatening punitive action. The Security Council has already imposed an embargo -- on July 15 -- on dangerous weapons and related materials going or leaving North Korea after Pyongyang defied international warnings by test-firing missiles.