CAMP PENDLETON, Calif. - The Pentagon said Friday that it will investigate a Marine's sworn statement that guards at Guantanamo Bay bragged about beating detainees and that they described it as common practice.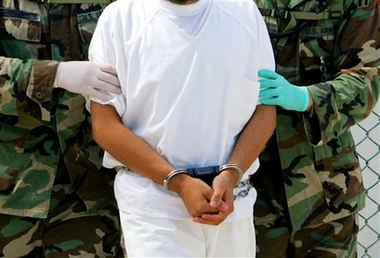 A detainee is escorted by military police at Camp 4 of the maximum security prison Camp Delta at Guantanamo Bay Naval Base in this 2004 file photo in Guantanamo Bay, Cuba. [AP]
The Marine, a paralegal who was at the U.S. Navy station in Cuba last month, alleges that several guards she talked to at the base club admitted routinely hitting detainees.
"From the whole conversation, I understood that striking detainees was a common practice," the sergeant wrote. "Everyone in the group laughed at the others' stories of beating detainees."
The woman's name was blacked out of a copy of a two-page affidavit provided to The Associated Press by a civilian defense attorney working with Lt. Col. Colby Vokey, the Marine Corps' defense coordinator for the Western United States and based at Camp Pendleton.
Vokey, who sent the statement Wednesday to the Inspector General at the Department of Defense, called for an investigation, saying the abuse alleged in the affidavit "is offensive and violates United States and international law."
Pentagon spokesman Lt. Cmdr. Chito Peppler said defense officials "are reviewing this affidavit and will investigate these allegations fully." A call to the inspector general's office was not immediately returned
Navy Cmdr. Robert Durand, spokesman for the Joint Task Force that oversees detention facilities at Guantanamo, said the force "will participate fully with the inspector general to learn the facts of the matter and will take action where misconduct is discovered."
"Abuse or harassment of detainees in any form is not condoned or tolerated," Durand said.
Guantanamo Bay houses about 450 suspected members of al-Qaida and the Taliban. Human-rights groups have roundly criticized the Bush administration for detaining most without criminal charges, but U.S. officials have defended the detentions as necessary in the war on terrorism and say the detainees are treated humanely.
The Marine said in the sworn statement that she has been working at Marine Corps Base, Camp Pendleton in Southern California on a Guantanamo-related case, and was in Guantanamo from Sept. 20-27.
She said some Marines had invited her to the base club Sept. 23. She didn't see them but a group of at least 15 sailors invited her to join them. She said she spoke with the sailors for about an hour, during which she had one drink, and that the sailors did not appear drunk.
A 19-year-old sailor referred to only as Bo "told the other guards and me about him beating different detainees being held in the prison," the statement said.
"One such story Bo told involved him taking a detainee by the head and hitting the detainee's head into the cell door. Bo said that his actions were known by others," the statement said. The sailor said he was never punished.
Other guards "also told their own stories of abuse towards the detainees" that included hitting them, denying them water and "removing privileges for no reason."
"About 5 others in the group admitted hitting detainees" and that included "punching in the face," the affidavit said.
Guantanamo was internationally condemned shortly after it opened more than four years ago when pictures captured prisoners kneeling, shackled and being herded into wire cages. That was followed by reports of prisoner abuse, heavy-handed interrogations, hunger strikes and suicides.
Military investigators said in July 2005 they confirmed abusive and degrading treatment of a suspected terrorist at Guantanamo Bay that included forcing him to wear a bra, dance with another man and behave like a dog.
However, the chief investigator, Air Force Lt. Gen. Randall M. Schmidt, said "no torture occurred" during the interrogation of Mohamed al-Qahtani, a Saudi who was captured in December 2001 along the Afghanistan-Pakistan border.