NICKEL MINES, Pa. - Two more children died Tuesday morning of wounds from the shootings at an Amish schoolhouse, raising the death toll to five girls plus the gunman who apparently was spurred by a two-decades-old grudge.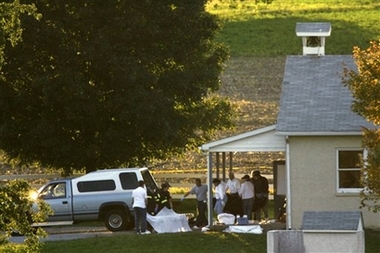 A body is carried from a schoolhouse, where a gunman killed several people, in Nickel Mines, Pa. on Monday, Oct. 2, 2006. [AP]

The toll from the nation's third deadly school shooting in less than a week rose twice within a matter of hours Tuesday with the deaths of a 9-year-old girl at Christiana Hospital in Delaware and a 7-year-old girl at Penn State Children's Hospital in Hershey.

Five additional girls were hospitalized.

The Bush administration on Monday called for a school violence summit to be held next week with education and law enforcement officials to discuss possible federal action to help communities prevent violence and deal with its aftermath.

State police spokeswoman Linette Quinn said the two girls who died early Tuesday had suffered "very severe injuries, but the other ones are coming along very well."

The 9-year-old girl died about 1 a.m., and the 7-year-old girl died about 4:30 a.m.

"Her parents were with her," hospital spokeswoman Amy Buehler Stranges said of the 7-year-old. "She was taken off life support and she passed away shortly after."

Authorities said the gunman, Charles Carl Roberts IV, 32, wrote what authorities described as suicide notes, took guns and ammunition and went to a nearby one-room schoolhouse, where he opened fire on several girls and took his own life, authorities said.

Roberts, a father of three from nearby Bart Township and was not Amish, did not appear to be targeting the Amish and apparently chose the school because he was bent on killing young girls as a way of "acting out in revenge for something that happened 20 years ago," said state police Commissioner Jeffrey B. Miller.

"This is a horrendous, horrific incident for the Amish community. They're solid citizens in the community. They're good people. They don't deserve ... no one deserves this," Miller said.

The names of the dead were not immediately released.

Of the injured, a 6-year-old girl remained in critical condition and a 13-year-old girl was in serious condition at Penn State Children's Hospital, spokeswoman Buehler Stranges said. She said the names of the children were not being released.

Three girls, ages 8, 10 and 12, were flown to Children's Hospital of Philadelphia, where they were out of surgery but remained in critical condition, spokeswoman Peggy Flynn said.

| | | |
| --- | --- | --- |
| 1 | 2 | |