SEOUL, Oct 3 - North Korea said on Tuesday it would conduct its first-ever nuclear test, blaming a U.S. "threat of nuclear war and sanctions" for forcing its hand.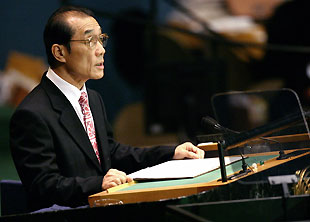 Deputy Foreign Minister of North Korea Choe Su-hon addresses the 61st session of the United Nations General Assembly at U.N. headquarters in New York, September 26, 2006. [Reuters]

The statement by North Korea's foreign ministry, which was carried on the official KCNA News Agency, capped weeks of rumours that the state was planning a test and came amid increasingly bitter relations with the US after it test-fired missiles in July.

"The US extreme threat of a nuclear war and sanctions and pressure compel the DPRK (North Korea) to conduct a nuclear test, an essential process for bolstering nuclear deterrent, as a corresponding measure for defence," the statement said.

But it added that North Korea would never use nuclear weapons first and would "do its utmost to realise the denuclearisation of the peninsula and give impetus to the worldwide nuclear disarmament and the ultimate elimination of nuclear weapons".

Analysts say North Korea probably has enough fissile material to make 6 to 8 nuclear bombs but probably does not have the technology to make one small enough to mount on a missile.

Officials in North Korea's two other major neighbours -- China and South Korea -- gave no immediate reaction to the report.

All are members of six-nation talks trying to end Pyongyang's nuclear weapons programme. The other two countries are Russia and the United States.

North Korea walked out of the talks almost a year ago and has refused to return until the United States ends a financial crackdown on its offshore bank accounts.

A nuclear test is certain to be seen as an attempt by North Korea to force the United States into direct negotiations, something it has long pushed for but which Washington has rejected until Pyongyang returns to the six-party talks.

"North Korea thinks it has no other option but to press the United States to have bilateral negotiations with them. North Korea has nothing to lose by conducting a nuclear test," Chang Myung-soon, an expert on North Korea's military, said.

"A military attack on North Korea will be really difficult considering opposition from South Korea, China and Russia," he said.

"I don't think this will end up just as blackmail. I see the possibility of an actual nuclear test as high."

NORTH BLAMES U.S.

North Korea blamed the United States for the latest ratcheting up of tension on the Korean peninsula, which has been divided for more than 50 years after a war over which no formal peace treaty has ever been signed.

It accused Washington over trying to topple its government with the financial crackdown.

"The U.S. daily increasing threat of a nuclear war and its vicious sanctions and pressure have caused a grave situation on the Korean peninsula in which the supreme interests and security of our state are seriously infringed upon and the Korean nation stands at the crossroads of life and death," the North Korean statement said.