South Korean Foreign Minister Ban Ki-Moon was on course to become the next UN chief after he won crucial backing from the five veto-wielding members of the Security Council in a decisive straw poll.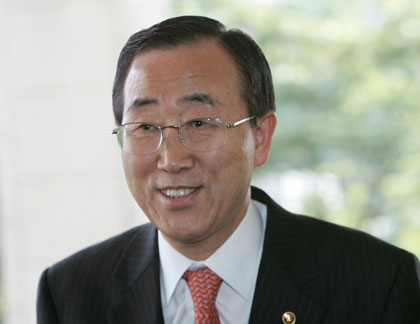 South Korea's Foreign Minister Ban Ki-Moon arrives at his office in Seoul October 3, 2006. South Korea's Foreign Minister Ban Ki-Moon was virtually assured on Monday of succeeding Kofi Annan as U.N. secretary-general, emerging as the only candidate without a veto in a final informal Security Council poll. [Reuters]
After the informal secret-ballot vote, India's candidate, UN under secretary general for communications and public information Shashi Tharoor, who finished second to Ban, offered his warmest congratulations to the winner.
"It is clear that he (Ban) will be our next secretary general," Tharoor said. "I wish Mr Ban every success in that task. I will strongly support him."
"It is quite clear from today's straw poll that minister Ban Ki-Moon is the candidate that the Security Council will recommend" to the General Assembly, China's UN envoy Wang Guangya also told reporters.
Monday's crucial informal poll was the first to differentiate ballot sheets used by the council's 10 non-permanent members from those of the five veto-wielding permanent members.
The council's so-called "Big Five" used blue ballot sheets while their non-permanent counterparts cast white ones, according to diplomats.
The 15-member council did not release an official tally for Monday's poll, the fourth since July. Members had the options of casting "encouraging", "discouraging" and "no opinion" ballots.
Qatari Ambassador Nasser al-Nasser said 14 of the council's 15 members voted in favor of Ban, while the 15th member cast a "no opinion" vote.
All five permanent members -- Britain, China, France, Russia and the United States -- endorsed Ban, diplomats said. A negative vote from any of the so-called "Big Five" would have doomed his chances.
Another diplomat, who spoke on condition of anonymity, said Tharoor got 10 favorable votes, three against -- including one from a veto-wielding member -- and two "no opinion" ballots.
Third was Latvian President Vaira Vike-Freiberga, the only woman and the only European in the six-person field, who got five votes in favor, six against -- including two from permanent members -- and four abstentions.
Based on the results, US Ambassador to the UN John Bolton said he urged the council to decide "as soon as possible, this week hopefully" when to schedule a formal vote on who will succeed Kofi Annan when the Ghanaian UN chief steps down at the end of December after 10 years in office.
"It was sufficiently clear that all members of the council agreed we would move to a formal vote on Monday," Bolton said. "The United States is very pleased with the outcome."
Japan's UN envoy Kenzo Oshima, the council president for October, confirmed that a formal vote was likely to be held early next week, saying a final decision would be made during consultations Tuesday.
Bolton said he "would be surprised' if new candidates were to throw their hats into the ring at this late stage.
The 62-year-old Ban, who won the three previous straw polls by a wide margin, is thus one step closer to becoming the world body's eighth secretary general.
The three other candidates in Monday's poll were Surakiart Sathirathai, deputy premier in the ousted Thai government; Jordan's UN ambassador Prince Zeid al-Hussein; and Afghanistan's former finance minister Ashraf Ghani.
Under the UN Charter, the secretary general is elected by the 192-member General Assembly on the recommendation of the Security Council.
After its formal vote early next week, the Security Council is to relay its choice to the General Assembly for endorsement.
There is a broad consensus in the world body that an Asian must lead the organization in line with an unwritten rule of geographic rotation.
Asia has not held the post since U Thant, a Burmese, served from 1961-1971.
Last week, a confident Ban traveled to New York to lobby for public support and laid out his vision for a revamped world body in the 21st century.
And in an interview with AFP from Seoul Monday, he reiterated that the most urgent issue confronting the UN was "management reform, regaining the trust and confidence of member states and major stakeholders."
He said UN activities were overstretched because of the ineffective delivery of some services.
"We need to consolidate, coordinate, reduce the overlap between agencies ... We need to promise less and deliver more."