TOKYO - Japan's new prime minister, Shinzo Abe, laid out on Friday his vision of a "Beautiful Country" that can be proud of its traditions and culture while also being respected - and loved - by the world.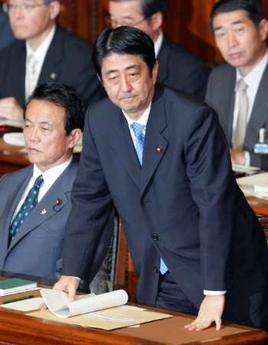 Japan's Prime Minister Shinzo Abe (R), flanked by Foreign Minister Taro Aso, leaves his seat to deliver his first keynote speech since taking office on Tuesday during a plenary session at the Lower House of Parliament in Tokyo September 29, 2006. Abe, laying out the agenda for his new administration, said on Friday he would cut spending to restore state coffers but did not go into specifics on tax reforms. [Reuters]
Abe, 52, who took over this week as Japan's first leader born after Japan's defeat in World War Two, has made it a central part of his agenda to escape a "post-war regime" that conservatives believe deprived Japanese of pride in their history and culture.
"Our country, Japan, is a country endowed with a long history, culture, tradition and beautiful natural environment of which we can be proud before the world," Abe told parliament in his first policy speech since becoming prime minister on Tuesday.
"The time has come for us to step forward, with quiet pride in our hearts to create a new country," he said, speaking in a low-key manner that contrasted sharply with the often emotional style of his popular maverick predecessor, Junichiro Koizumi.
Abe's rise to Japan's top job has aroused concerns in some quarters, both at home and abroad, about a rise in nationalism, even as Tokyo seeks to repair ties with China and South Korea.
Relations with Beijing and Seoul were soured by Koizumi's visits to Yasukuni Shrine, seen by many as a symbol of Japan's past militarism because Japanese leaders convicted as war criminals are revered there along with war dead.
On Friday, Abe sought to define his concept of a "Beautiful Country, Japan," as a nation that could both lead and be loved.
"It is a country that values its culture, tradition and history" - but also one "with leadership that is trusted, respected and loved by the world," he said.
MUSCULAR DIPLOMACY, FAMILY VALUES
Abe spoke of his commitment to tighter ties with Tokyo's security ally, the United States, but also expressed his determination to boost Japan's say in global affairs, a break from past diplomacy, which has tended to follow Washington.
"The time has come for our country to shift to an assertive diplomacy based on new thinking," he said, repeating a mantra that had become familiar during his campaign to become ruling Liberal Democratic Party president, and hence, premier.
Abe said he wanted to build mutual trust with Beijing and Seoul, but devoted little space to the topic in his 15-page speech. Abe had backed Koizumi's visits to Yasukuni, but has declined to say if he would go there as prime minister himself.
"China and South Korea are important neighbours," he said.
"Strengthening trust with the two is key for the Asian region and for the international community, and it is important for all sides to work to have honest, future-oriented discussions."
Abe has already agreed with South Korean President Roh Moo-hyun that the two should meet soon, and Kyodo news agency reported on Friday that the preparations were under way for him to visit Seoul in early October.
There is also speculation that he might meet Chinese President Hu Jintao, either at a November Asia-Pacific leaders' gathering in Hanoi or before.
Abe also reiterated his determination to revise a 1947 law on the goals of education to put more discipline in Japan's classrooms, and said he wanted to address a sagging birth rate by promoting "family values" and making it easier to raise children.
"I want to undertake reform of awareness so society as a whole shares family values and appreciates how wonderful it is to raise children," he said.
Repeating his commitment to pursuing growth and fixing Japan's fragile state finances - burdened by the biggest public debt among advanced countries - Abe also promised steps to keep Japan from becoming a society of permanent "haves and have-nots".