Japanese Prime Minister Shinzo Abe is ready for top-level talks with China, his spokesman said on the leader's first full day in office yesterday.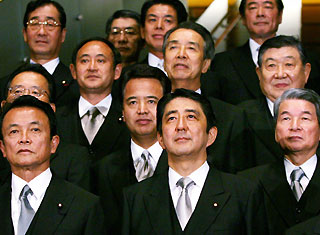 Newly-elected Japanese Prime Minister Shinzo Abe (C) poses with his Foreign Minister Taro Aso (L) and other cabinet members during an official group photo at the premier's official residence in Tokyo September 26, 2006. [Reuters]

Abe is willing to meet Chinese or South Korean leaders at any time to try to resolve issues of concern, including territorial disputes and regional anger over official visits to a controversial Tokyo war shrine, said newly appointed Chief Cabinet Secretary Yasuhisa Shiozaki.

"We both share an understanding that we should work to hold top-level talks as early as possible," Shiozaki said. "It is necessary for both sides to make an effort."

He said no specific plans have been made for talks yet.

Since last year, President Hu Jintao has refused to meet Abe's predecessor, Junichiro Koizumi, because of his repeated visits to the Yasukuni war shrine, which honours war criminals among Japan's war dead.

Both China and South Korea say the shrine glorifies Japan's past militarism.

On Tuesday, Premier Wen Jiabao sent a congratulatory message to Abe on his inauguration as prime minister and described China-Japan relations as being in an "important historical period."

"To continuously develop the neighbourly, friendly and co-operative relationship not only conforms to the common interests of the two countries and the two peoples, but also benefits peace, stability and prosperity in the Asia-Pacific region, as well as the world," he said.

"I am willing to work together with you [Abe] to make unremitting efforts" to push forward the development of China-Japan relations, Wen added.

In Seoul, the South Korean government yesterday said that "sincere and vigorous" efforts should be made by Japan to mend strained ties between the two countries.

"There is a demand for the two nations to work together for not only the development of their relations, but also regional stability and prosperity," Vice-Foreign Minister Lee Kyu-hyung told a press briefing.

According to local media, South Korean Foreign Minister Ban Ki- moon earlier called on Abe not to follow in the footsteps of his predecessor Junichiro Koizumi.

"We sincerely hope that Prime Minister Abe will learn lessons from what has transpired during Prime Minister Koizumi's administration," Ban said in an interview with Japan's Kyodo news agency in New York.