GAZA - Prime Minister Ismail Haniyeh of Hamas said on Sunday talks on a Palestian unity government could still succeed, brushing aside President Mahmoud Abbas's comment that they had reached "point zero" and must start from scratch.

"We will resume the consultations over the formation of a national unity government and I believe we have gone a long way down the road," Haniyeh told reporters in the Gaza Strip. "There is a real hope that it will succeed."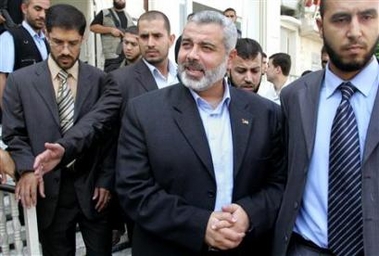 Palestinian Prime Minister Ismail Haniyeh (2nd R) arrives to his office in Gaza September 17, 2006. President Mahmoud Abbas has frozen talks on forming a Palestinian unity government after Hamas said it would not accept interim peace deals with Israel, two of his aides said on Sunday. But Haniyeh said talks had only been put on hold while Abbas visited New York this week. Other Hamas officials said while there were differences of opinion, formation. [Reuters]
Abbas plans to travel to Gaza on Monday or Tuesday to resume talks, which he froze a week ago before attending the U.N. General Assembly in New York, senior aide Saeb Erekat said.
Erekat said Abbas would tell Hamas: "If you want a unity government, there are international requirements that need to be met, and that's the only way to form a unity government."
The moderate Abbas has accused Haniyeh and other Hamas leaders of reneging on an agreement reached earlier this month on a political programme for a unity government that included recognition of interim peace deals with Israel.
The row centres on agreeing a political agenda for the unity coalition that is clear enough in recognition of Israel to satisfy the West but vague enough for Hamas to say it does not contradict their charter, which calls for Israel's destruction.
Palestinians hope formation of a unity government will prompt Western powers to ease an aid embargo that has increased poverty and lawlessness in Gaza and the occupied West Bank.
The aid embargo was imposed when Hamas came to power in March to pressure the Islamic militant group to meet three conditions: recognise Israel, renounce violence and abide by interim peace deals.
A breakdown in unity talks could trigger fighting between rival armed factions loyal to Hamas and Abbas's Fatah movement. Hamas trounced Fatah in parliamentary elections in January.
In a challenge to Abbas, four militant groups threatened to attack any unity government that recognises Israel.
"Any coming (Palestinian unity) government that recognises Israel and its right to existence will be a legitimate target for us," said Abu Abir, spokesman for the Popular Resistance Committees. "We will fight it by all means and we will deal with it as an extension of the Zionist occupation."
MAJOR OBSTACLES TO DEAL
Yasser Abed Rabbo, an official with the umbrella Palestine Liberation Organisation headed by Abbas, said a unity government would not be possible unless Hamas accepted interim peace deals, an Arab peace initiative and U.N. resolutions.
"Otherwise it will suffer in the same way that the Hamas-monopolised government suffered," he said.
Washington has threatened to shun Fatah members who join a government led by Hamas if that government does not meet the three conditions.
Abbas, who met U.S. President George W. Bush at the United Nations last week, is under U.S. pressure to force Hamas to make concessions. Washington had hoped Abbas would sack the Hamas-led government, not join it.
Speaking at the U.N. General Assembly on Thursday, Abbas said "any future Palestinian government" would honour all previous interim peace accords with Israel. Hamas said it would not join any unity government that recognised Israel.
"Unfortunately, we are back to point zero," Abbas said on Saturday of the unity talks.
The impasse in unity government talks come as economic conditions worsen for Palestinians.
A poll published on Sunday showed 73 percent of 165,000 Palestinian government workers are no longer able to make ends meet because of unpaid wages and 22 percent wish to emigrate.
"The suffering is real," said Samir Hleleh, managing director of British firm Portland Trust which conducted the survey with the Palestinian Economists Association.