PARIS - A leaked French intelligence document raises the possibility Osama bin Laden died of typhoid, but President Jacques Chirac said Saturday the report was "in no way whatsoever confirmed" and officials from Kabul to Washington expressed skepticism about its accuracy.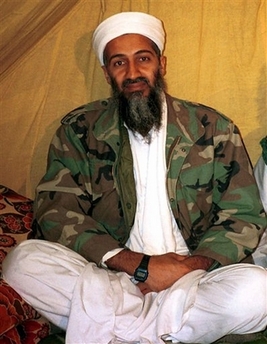 This is an undated photo of Osama bin Laden, in Afghanistan. President Jacques Chirac said Saturday Sept. 23, 2006 that information contained in a leaked intelligence document raising the possibility that Osama bin Laden may have died of typhoid in Pakistan last month is 'in no way whatsoever confirmed.' [AP]
There have been numerous reports over the years that bin Laden had been killed or that he was dangerously ill, but the al-Qaida leader has periodically released audiotapes appealing to followers and commenting on current news events.
The regional French newspaper l'Est Republicain printed what it described as a copy of a confidential document from the DGSE intelligence service citing an uncorroborated report from a "usually reliable source" who said Saudi secret services were convinced that bin Laden had died.
The document, dated Thursday, was sent to Chirac and other top French officials, the newspaper said.
"This information is in no way whatsoever confirmed," Chirac said when asked about the document. "I have no comment."
Saudi Arabia's Interior Ministry offered no details. "I've heard the reports, but I have no information at all. I have no idea," spokesman Mansour al-Turki told The Associated Press.
Secretary of State Condoleezza Rice said she had "no comment and no knowledge" about the report, while presidential spokesman Blair Jones said the White House could not confirm the report's accuracy. But two U.S. intelligence officials, who spoke on condition of anonymity because of the sensitivity of the issue, said U.S. agencies had no information to suggest bin Laden was dead or dying.
A senior official in Afghanistan's Foreign Ministry said he was very skeptical of the document, noting past false reports of the death of bin Laden. He declined to let his name be used because he was not authorized to discuss the issue publicly.
Pakistan's Foreign Ministry spokesman, Tasnim Aslam, called the information "speculative," saying his government had no information on bin Laden.
Many people suspect bin Laden and other al-Qaida leaders are hiding in the Pakistani mountains along the border with Afghanistan.
Among previous reports, Pakistani President Pervez Musharraf said during the U.S.-led offensive that toppled Afghanistan's Taliban regime in late 2001 that he was "reasonably sure" bin Laden had been killed by U.S. bombing raids on the Tora Bora caves.

| | | |
| --- | --- | --- |
| 1 | 2 | |