BUDAPEST, Hungary - Thousands of protesters demonstrated outside parliament for a fourth day Wednesday demanding Hungary's prime minister resign over a leaked recording in which he admitted his government lied about the dismal state of the economy.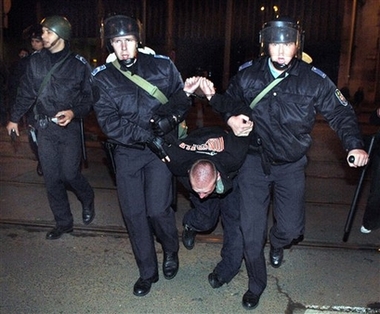 Hungarian riot police arrest a right wing demonstrator during an anti-government protest in Budapest, Hungary, Wednesday, Sept. 20, 2006. Police deployed forces in new, stronger riot gear Wednesday and declared they were ready for any situation as the Hungarian capital recovered from a second day of mob violence, and prepared for more. [AP]
The demonstrators' numbers swelled to about 15,000 by late evening, but Prime Minister Ferenc Gyurcsany stood his ground, insisting his government intended to press ahead with economic reforms.
Before dawn, a much smaller group of protesters marched to the nearby headquarters of state television, demanding to be allowed to proclaim their complaints on a live broadcast after police used tear gas and water cannons to repel dozens of mostly young men who stormed the building's main entrance.
At least two cars were set on fire outside the television headquarters and protesters kept charging the building and throwing rocks at police inside. A nearby stone memorial to Soviet troops who ousted the Nazis from Hungary at the end of World War II was vandalized.
Several violent outbursts during the dayslong protests have left about 140 officers injured, including 38 early Wednesday, and 137 people have been detained, said Arpad Szabadfi, deputy chief of national police. Dozens of demonstrator also were hurt, officials said.
The violence shook a country that for much of its last two decades had been held up as a model of progress following the collapse of communism in eastern Europe.
Gyurcsany called it Hungary's "longest and darkest night" since the end of communist rule in 1989.
The calls for the resignation of Gyurcsany came after leaks of his taped comments that he had "lied morning, evening and night" about the economy.
The tape was made at a closed-door meeting in late May, weeks after Gyurcsany's government became the first in post-communist Hungary to win re-election.
Confronted with initial excerpts of the 25-minute recording which Hungarian state radio put up on its Web site Sunday afternoon, Gyurcsany not only acknowledged their authenticity but seemed relieved they had been made public ¡ª leading to speculation that the leak came from sources close to him.
The public was stunned by the blunt admissions of government ineptitude during its first term and the cynicism contained in a 25-minute tape widely aired and published by news media.
"We screwed up. Not a little, a lot," Gyurcsany was heard saying. "No European country has done something as boneheaded as we have."
"I almost died when for a year and a half we had to pretend we were governing. Instead, we lied morning, evening and night," he told his fellow Socialists.
The 45-year-old Gyurcsany, his party's golden boy since he was elected prime minister in late 2004, said the economy had been kept afloat only through "divine providence, the abundance of cash in the world economy and hundreds of tricks."
Along with Russian President Vladimir Putin, he counts among his friends Prime Minister Tony Blair of Britain and President Bush, whom he presented with a handmade pair of riding boots during the U.S. leader's visit in June.