Nursing home owners indicted for negligent homicide
(AP)
Updated: 2006-09-21 08:47
CHALMETTE, La. - The owners of a nursing home where 35 patients died in the aftermath of Hurricane Katrina were indicted Wednesday on charges of negligent homicide and cruelty to the infirm.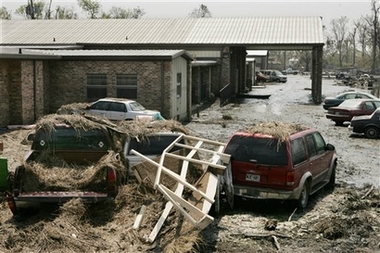 Mud and debris covers the perimeter of St. Rita's nursing home in Chalmette, La., in this 2005 file photo. [AP]
Salvador and Mabel Mangano were initially arrested about two weeks after the Aug. 29, 2005, storm. The Louisiana attorney general booked them on negligent homicide charges, but a grand jury was unable to convene for months because the court system was hobbled by damage to government buildings and the displacement of residents.
The couple owned St. Rita's nursing home in St. Bernard Parish, a coastal suburb of New Orleans badly flooded by Katrina. They remained free on bond.
Attorneys in the case were prevented from commenting by a gag order.
More than 30 lawsuits have been filed against the couple by patients injured at the nursing home and the families of people who died there.
In a lawsuit filed last month, the couple sued the government, saying federal, state and local officials failed to keep residents safe and evacuate vulnerable citizens as the storm approached.
The Manganos have argued that their hurricane plan to keep frail residents in place with food, water and generators rather than risk moving them was a responsible course of action, and if the levees had held, the tragedy would have been avoided.
Katrina flooded 80 percent of New Orleans and virtually wiped out neighboring St. Bernard and Plaquemines parishes. The Louisiana death toll was nearly 1,600.