BANGKOK, Sept 20 - Thailand's military coup leaders will choose a new prime minister within two weeks and step back from power, army chief General Sonthi Boonyaratglin said on Wednesday.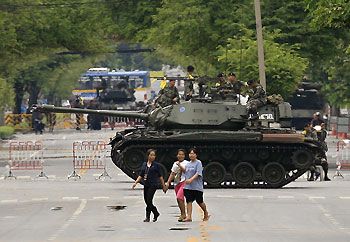 Women walk past a tank and military personnel stationed at a road block in Bangkok September 20, 2006. [Reuters]
Speaking less than 24 hours after leading a bloodless coup to oust billionaire Prime Minister Thaksin Shinawatra, Sonthi also said it would take a year to produce a new constitution leading to a fresh general election.
The military leadership was poring over civilian candidates who loved "democracy and constitutional monarchy" to replace Thaksin, who arrived in London on Wednesday from New York where he had been attending the U.N. General Assembly.
"We have two weeks. After two weeks, we step out," said Sonthi, whose military "Political Reform Council" was legitimised by a royal proclamation.
"The general public is requested to remain calm and all civil servants and state officials to follow instructions issued by General Sonthi Boonyaratglin," the proclamation declared.
The military says it acted because there was no other way out of a protracted political crisis.
Sonthi told a news conference the new cabinet would form a special committee to draw up a new constitution and submit it to a referendum, after which new elections could be held.
"It will take a year to draft a new constitution," he said.
Political reform is considered essential by Thaksin's foes to allow, they say, independent state agencies such as the election commission to be purged of his allies.
The United States urged a quick restoration of democracy.
"We're disappointed in the coup. We hope those who mounted it will make good and make good swiftly on their promises to restore democracy," White House spokesman Tony Snow said.
Britain said it was not seeking the restoration of Thaksin and his decision to travel to London had no political significance.
"It's not for us to say that he should be reinstalled. We have called for a return to democratic government," Foreign Secretary Margaret Beckett said.
Asked why Thaksin had chosen to fly to London, Beckett said she believed he had an apartment in the British capital.
QUIET
Not a shot was fired in the coup and the streets of Bangkok were quiet with very little military presence except around Government House and nearby army headquarters.
"The situation in Thailand is very calm. There is no threat to tourists," a Thomas Cook spokesman said in Germany of a country which draws about 12 million visitors a year.
Concerns of a conflict or even a counter-coup by Thaksin's supporters appeared to evaporate and Sonthi invited the ousted leader to return, promising his assets would not be touched.